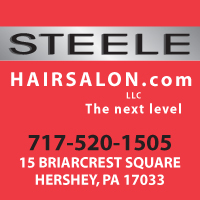 Steele Hair Salon in Hershey Pa specializes in styling, cuts, color, conditioning, highlights, touch ups, makeup application & Brazilian keratin treatment.
Our mission at Steele Hair Salon is to exceed our client's expectations and bring our experience, our style + our art - to you... starting with your hair. One client at a time, we aim to provide a level of service + care to raise your confidence, and bring you to the NEXT LEVEL all by anticipating your needs.
We work with you every step of the way to achieve the look you desire.
With the latest styles, high-quality products and a passion for what we do - you're sure to have a truly revolutionary experience.