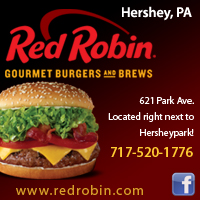 Looking for Gourmet Burgers or a Family Restaurant in Hershey, PA? Red Robin Restaurant in Hershey is conveniently located across the street from Hershey Park, next to the Outlets at Hershey, off PA 743/Hershey Park Drive. Just minutes from all Hershey and Harrisburg Hotels you can try our curbside pick-up for great food to go!

We have been satisfying the cravings of Hershey, Hummelstown, Middletown, Palmyra and Harrisburg residents in Dauphin County, PA for years.

We are famous for our innovative menu offerings, trendy new items, and "Mad Mixologists" who create some of the craziest concoctions in the industry! This exciting atmosphere that we have created at Red Robin keeps our customers coming back, time and time again! And, once you indulge in our burger bliss, you will see why.

Keeping with the family friendly theme of the town of Hershey, we provide a family restaurant that pleases everyone. With mouth-watering burgers, piled high with our signature ingredients, fresh salads and decadent desserts, we can satisfy even the pickiest taste-buds. Come experience our crazy concoctions, gourmet burgers, Bottomless Steak Fries® and super friendly staff at our Hershey, PA location today! And, you and the family can make it a Movie Madness Night, right at the local movie theater, the Cocoaplex, with our on-of-a-kind Movie Madness Deal!

Appetizers

Kick start your meal with one (or two!) of our delicious appetizers. From our famous Towering Onion Rings® to Clucks and Fries®, our tantalizing appetizers set the tone for an unforgettable meal.

Chicken Sandwiches

If you are looking for an option other than beef, our array of chicken sandwiches will do the trick! Crispy, tender, sweet and spicy, you can pick your favorite taste. Our Gourmet Grilled Chicken Breasts are made with Honest to Goodness Ingredients that contain no preservatives or artificial ingredients!

Fire-Grilled Burgers

Our gourmet burgers are made with natural ground beef, containing no preservatives or artificial ingredients, piled high with insanely delicious toppings & cooked to your specifications. Substitute a BOCA Original Vegan Burger, Gardenburger, or go bun-less & wrap it in fresh lettuce at no charge. Our buns include Classic Sesame, Whole Grain, Ciabatta Bread, Onion Jalapeno-Cornmeal Kaiser Roll.

Ice Cold Beers & Wine

What goes better with gourmet burgers than ice cold beer? We offer over a dozen beers from a few of our favorite brands for your drinking pleasure. If a brew isn't your drink of choice, we also have quality wines by the glass

Masterful Mixology

The drinks that made us famous! When it comes to cocktails, we are masters of our own domain! We put a twist on the classics to make our own innovative real fruit cocktails for your adult beverage pleasure. You deserve to mix it up a bit!

Perfect Combos

Our perfect combos are, well, perfect if you are in the mood for something other than gourmet burgers. These craveable combinations can conquer any hunger!

Wraps & Sandwiches

Delicious light fare, our wraps and sandwiches are unique and made to order, served with our Bottomless Steak Fries®. Or, make it a combo with a cup of our piping hot soups!

Bottomless Beverages

We have a wide selection of thirst quenching drinks, including Bottomless Beverages™ featuring Coca Cola® and Dr. Pepper® products and our fresh-brewed teas. They pair perfectly with our Bottomless Steak Fries® !

Desserts

What a happy ending! Our decadent desserts are the only way to finish your meal. Whether it is swirled, topped or layered, these delectable desserts are treats for your taste-buds! Go on, order one, we know it's tempting.

Fresh-Tossed Salads

Our crisp salads are made with only the freshest ingredients and are generously covered with flavorful toppings and your choice of dressing. Refreshing and fulfilling, our salads can satisfy even the mightiest of hungers.

Malt Shoppe Shakes & Smoothies

Smoothies, shakes & malts! Oh My! Your favorite frozen beverages just got a little more exciting with our blend of crazy concoctions that will make you smile with every sip (or scoop)!

More Favorites

While we are known for our burgers, our mouthwatering entrees will also leave you more than satisfied. Hearty pasta, fresh seafood, and zesty chicken dishes are just a few of our outstanding offerings.

Soups

Our savory soups pair perfectly with our signature sandwiches and wraps. And, if you can't pick which one to have, indulge in our Souper Sandwich Combo!
Order to Go Now!
Try our curbside pick-up for great food to go.
Find Us On Facebook http://www.facebook.com/RedRobinPA
Find Us On Twitter https://twitter.com/redrobinburgers
Find Us On You Tube http://www.youtube.com/RedRobinLVRG