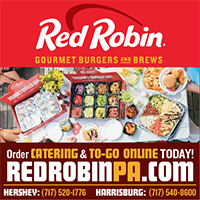 Red Robin Gourmet Burgers & Brews Restaurant has 2 convenient locations Hershey & Harrisburg. The Hershey restaurant is located at 621 Park Avenue Hershey, PA, 17033 next to Hershey Park. The Harrisburg restaurant is at 5125 Jonestown Road Harrisburg, PA, 17112.
Red Robin is more than just burgers. Get to know us a bit more!
Red Robin's core "B.U.R.G.E.R." values ensure that Guests & Team Members alike are better for being here.
Bottomless Fun
Our Guests love coming here because we do too. Our playful spirit gets mixed in to everything we do.
Unwavering Integrity
Do the right thing, no matter what. Our word is a 100% guarantee we will deliver. Even when it's tough or no one is looking.
Relentless Focus on Improvement
We are always striving to be better. We constantly seek knowledge and innovation to keep things popping!
Genuine Spirit of Service
We go above and beyond to meet our guests' needs. Unbridled hospitality and personal connections are in our DNA.
Extraordinary People
Remarkable people make us better. We honor our team members by caring for, developing, and rewarding them.
Recognized Burger Authority
Nobody does burgers as well as we do—nobody. We are the gold standard in taste, quality, presentation, and innovation.
Red Robin's culture also encompasses our people, our burgers and our B.U.R.G.E.R. stories. We take great care in choosing the people who take great care of you. From our servers to our chefs to our greeters, we're all about making sure you have a good time, every time. Our burgers, though, are where it all began. Serving them fresh, fire-grilled and just how you like them. Loosely packed and full of flavor, Red Robin burgers don't just make you full. They make you smile. Our goal? Burger greatness for every Guest.
ONLINE ORDERING & RED ROBIN CATERING
You can also ORDER ONLINE to-go at REDROBINPA.COM. Or, allow us to deliver the YUMMM® to your next meeting or event, using RED ROBIN CATERING!
Are you here for a sports tournament and trying to figure out where your team can go out to eat together? Save the hassle and allow us to bring the YUMMM® to you, instead!
Call either your Hershey or Harrisburg Red Robin locations to learn more.
HERSHEY RED ROBIN LOCATION
Red Robin in Hershey is conveniently located across the street from Hershey Park, next to the Outlets at Hershey, off PA 743/Hershey Park Drive. Just minutes from all Hershey and Harrisburg Hotels, we have been satisfying the cravings of Hershey, Hummelstown, Middletown, Palmyra and Harrisburg residents in Dauphin County, PA for years.
HARRISBURG RED ROBIN LOCATION (PAXTON TOWNE CENTER)
Just minutes from all Harrisburg Hotels, we have been satisfying the cravings of Harrisburg, Linglestown, Paxtonia, Colonial Park and surrounding area residents in Dauphin County, PA for years.

MENU
APPETIZERS

Choose from our $5, $7 & $9 menu options

FIRE-GRILLED GOURMET BURGERS

Our Gourmet Burgers are famous for a reason. Using the highest-quality fresh, never frozen beef and crave-worthy toppings, each and every one of our fire-grilled faves are packed with flavor and full of YUMMM®. All our Gourmet Burgers are served with Bottomless Steak Fries®.

RED ROBIN'S FINEST BURGERS

Hand-crafted with: A ½ lb. of fresh, never frozen Black Angus, an all-natural, cage-free 7-oz. chicken breast or a 6-oz. salmon fillet, our Finest lineup is made with premium ingredients, artisan touches and sophisticated flavors that deliciously elevate the burger experience. All our Finest Burgers are served with Bottomless Steak Fries®.

RED'S TAVERN MENU

Looking for value? Look no further! Our pub-style Tavern Double™ burgers are made with two of our classic patties and proudly served with Bottomless Steak Fries®, valued at $6.99. Want to make it a Big Tavern for a little bit more? Swap two classic-sized patties for our bigger signature burger.

FRESH SALADS
SOUPS
WRAPS & SANDWICHES
OTHER FUN ON A BUN

All Burgers are served with Bottomless Steak Fries®.

ENTRÉES
DESSERTS
RED'S KIDS MENU
BOTTOMLESS BEVERAGES

Freckled Lemonade® and select non-alcoholic beverages and teas.

MONSTER MILKSHAKES, MALTS® and SPECIALTY BEVERAGES
SMOOTHIE
FULL BAR
CUSTOMIZE YOUR ORDER

Customize your order how you like it and based on your dietary wants and needs.
Make It Meatier: Add an additional patty to your Gourmet Burger.
Vegetarian-Friendly Option: Substitute a custom-blended, ancient-grain-and-quinoa veggie patty or go bunless and wrap it in lettuce, no charge.
HAVE AN ALLERY? At Red Robin we understand how difficult menu choices can be when dining out and trying to avoid certain ingredients, whether it's for food intolerances or food allergies. To help meet your individual dietary needs, Red Robin is happy to provide you with our interactive allergen menu so that you can substitute just the right ingredients for your needs. Just choose the ingredients you wish to avoid and view your menu options at https://www.redrobin.com/allergen-customizer-fran.html