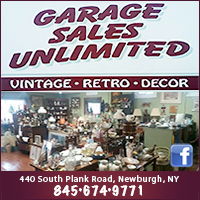 Garage Sales Unlimited located at 440 South Plank Road in Newburgh, NY is a second hand store, thrift store and vintage gift shop serving their customers in Walden, Newburgh, the Town of Montomery, Wallkill and surrounding local communities. Garage Sales Unlimited has that special gift that you've been looking for, stop in today!
Garage Sales Unlimited is a classic second hand thrift shop featuring antiques, handmade gifts, classic vintage houseware, unique second hand items, memoralbilia & collectibles sure to grab your attention. This place has a little bit of everything - and more.
Walk in and step back in time with antique furniture, mirrors, pictures, vintage electronics, records, jewelry, classic dishware and timeless knick knacks and classic household items.
Stop in today and browse around and check out the large selection of classic & vintage second hand gifts and collectibles - there's something here for everyone!