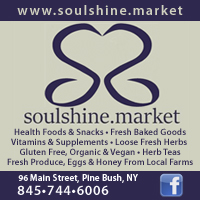 Soulshine.Market, formerly Heaven on Earth Natural Foods, is located at 96 Main Street in Pine Bush, NY is a natural health food store and local nutrition center that features health foods and snacks, vitamins & supplements, gluten free, organic and vegan health foods, fresh baked goods and holistic products to their customers in the Pine Bush, Walden, Middletown, Wallkill, Montgomery, Circleville and the Scotchtown area.
Family Owned & operated, Keith and Valerie Hindley at the newly named Soulshine.Market in Pine Bush will personally direct you to all your healthy choices, and answer any questions to help keep you on a happy and healthy path & lifestyle.
Soulshine.Market has weekly specials on many items and special orders are always welcome, with most major credit cards accepted.
Soulshine.Market proudly features fresh baked goods, fresh produce, eggs & honey from local farms - and local health related foods and products from local farms, markets and businesses' in the Hudson Valley.
Soulshine.Market in Pine Bush, NY is your totally local holistic, organic and natural health food store.
Soulshine.Market Menu: https://www.soulshine.market/menu