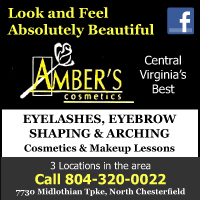 Ambers Eyelashes & Cosmetics in North Chesterfield provides skin care, hair removal & makeup & specializes in eyelash & eyebrow shaping & arching for Richmond, Bon Air VA & surrounding area.
DUE TO COVID-19 Face Mask & Precautions strictly adherred to!!
Amber's Cosmetics is more than Lipstick & Facial Cream, years of experience. Application of make-up taught & shown. Eyelashes & eyebrows step by step.
27 YEARS of EXPERT Care
Eyelashes & Eyebrow Shaping & Arching Specialist !!!!! as well as Wigs & Costume Jewelry
Your advanced beauty stylist will create a custom design just for you. Your lashes will be thicker, darker, and perfectly curled resulting in eyes that are open, youthful, and inviting. Turn heads and be the center of attention! We will create a custom design for your eyes. Gorgeous full band or individual false eyelashes will be expertly applied to last comfortably through the day, evening or event. You are also instructed how to safely remove the lashes. Let us add fun and flirty flutter to your eyes.
Your Eyebrows will be shaped and arched to your desire! Shaping the eyebrows correctly is important to the overall look. Brow filler and shadowing will be shaped appropriately to frame the face.
Makeup is more than just putting it on! Brenda an expert and teacher of the proper techniques of applying make up. Lessons are also available, our Make Up school is scheduling classes now at our 60West location on Midlothian Turnpike 804-366-8103
For over 20 years in the Richmond metro and in North Chesterfield county serving Bon Air, Meadowbrook, Midlothian, Glenn Allen, Short Pump, Tuckahoe District, Richmond Southside.
OUR MAIN LOCATION
Full-Service Spa 7443 Midlothian Turnpike Chippenham Sq. No Chesterfield
804-320-0022 804-262-9090 804-741-4044
LOOK AND FEEL ABSOLUTELY BEAUTIFUL
Central Virginia's Best in Make-Up Application & Sales