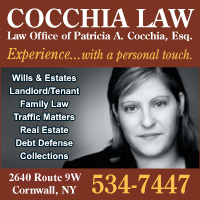 Patricia Cocchia located at 2640 Route 9W in Cornwall, NY is an attorney, lawyer, law firm and law office in Cornwall, NY that provides professional legal services, legal counsel & legal advice to her clients in Monroe, Cornwall, New Windsor, Marlboro, Highland, Chester, Milton, Washingtonville, Highland Mills and Central Valley, NY - and quality professional legal services & legal counsel in Orange & Ulster County.
Cocchia Law in Cornwall, NY is a full service law firm and law office specializing in providing professional legal services to help you and your family navigate the often confusing legal waters.
Buying your first home? Need a Will or Trust? Starting your own business? Do you need legal advice regarding a possible separation or divorce?
With more than decade of experience, Patricia A. Cocchia, Esq. has been providing a broad range of professional legal services to a wide variety of clients - including businesses and individuals throughout the greater Hudson Valley area for many years.
Know your rights!
Should you ever need an attorney in the Monroe, NY, Washingtonville, NY, Chester, NY, New Windsor, NY, Marlboro, NY, Town of Woodbury, NY or Cornwall NY and surrounding communities, the law office of Patricia Cocchia will help you regain your peace of mind at a fair and reasonable rate.
Call today to schedule an appointment.
Like us on Facebook!