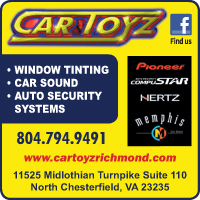 Car Toyz in North Chesterfield, VA offers car audio, window tinting, wheels, remote starts & GPS installation & automotive customizing to the Midlothian & Chesterfield,Chester area.
CELEBRATING 22 YEARS In the RICHMOND METRO call the experienced team not the new kids on the block.
Car Toyz is known for their meticulous installations and up to date knowledge. Remote Start sales & Window Tint by regulations Installation in North Chesterfield. Now SONY MOBILE ES
SAFE SOCIAL DISTANCING IS RESPECTED
Automotive Sound - Window Tinting - Wheels - Remote Starts - GPS - Car Wraps - Lettering and Automotive Customizing- Talents, Sunroof repairs, and tinting, Motorcycle lighting.
Mobile Drone allows you to start your car from mobile devices. From your phone in your pocket or office!!!!
Apple CarPlay is a smarter, safer way to use your iPhone in the car.
Located across from Chesterfield Town Center on Courthouse Rd. Serving Bon Air & North Chesterfield, Richmond Metro and wherever quality Sound is needed.
See our Facebook page for the many reviews and very satisfied friends
https://www.facebook.com/pages/Car-Toyz-Inc/116247825102156