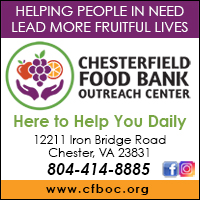 GIVE WHERE YOU LIVE EVEN DURING THE PANDEMIC!!!
ALL COVID-!9 Protocols are in place
Making a Difference in the Chesterfield Surronding Community
The Chesterfield Food Bank Outreach Center is a nonprofit organization providing a variety of food and educational programs to children, senior citizens, and families who need a helping hand but have fallen through the cracks of the community and other support programs.
Chesterfield Food Bank Outreach Center serves an average of 35,000 people a Month through seven different programs in Chesterfield county. These programs include:
Food on the Move
Kids Summer Food Program
Jefferson Davis Hot Meal Program
No Senior Hungry
Pantry Partners program
Their main distribution every Friday Night in Chester, VA
The Kids Summer Food Program helps ensure children who rely completely on free or reduced meals from their school stay fed. This program alone feeds 9,000 students over 151,000 meals si9nce the Pandemoic in March of 2020.!
Chesterfield Food Bank Outreach Center is also on a mission to have to have a food distribution location within easy access no matter where you may live in Chesterfield. With the assistance of volunteers from local businesses, churches and schools, seniors,they are excited to have regular food distributions in many different areas with more on the way!
They strongly believe in the principle: "Give a man a fish and feed him today, teach a man to fish and feed him for a lifetime."
They do this by offering FREE professional counseling, FREE group therapy, FREE finance classes and FREE continuing education classes so that every person has the opportunity to become a self-sufficient part of the community.
VOLUNTEER OR DONATE TODAY!
The Chesterfield Food Bank runs completely on the generous donations and volunteer help of people like you who care about helping others.
To find out how you or your organization can make a donation or become a volunteer visit their website at https://www.chesterfieldfoodbank.org/ or call 804-414-8885.​
When you give where you live, Chesterfield thrives!
Like us on FACEBOOK https://www.facebook.com/ChesterfieldVAFoodBank/?ref=br_tf​