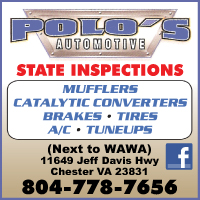 Polo's Automotive is a complete auto repair shop in Chester VA that sells tires & provides all-wheel Alignments, VA state inspection to Chester VA & surrounding areas. We have added a Tow Truck for Towing all size vehicles now available in Chester VA at Polo's Automotive. AND, Ducks Self service car wash is under the management of Polos located across the street.
TOWING SERVICE 804-778-7656
Complete Automotive Diagnostic Services from a squeak to an Engine replacement. Small trucks, autos, towing, trailers & trailer hitches.
Brakes-Shocks-Oil Changes-A/C system check-Exhaust System specialist in Chester VA.
Fleet Service for the entire area. Serving South Chesterfield & Tri-Cities, Richmond. RT 95 corridor.
Catalytic Converter Specialist
22 years experience - 11 years at this location
The State Inspection Center for Expert, Fast & Efficient Service!!!
New full-service Alignment System for car & small trucks to save on tire wear.