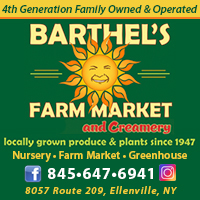 Barthel's Farm Market & Creamery located at 8057 Route 209 in Ellenville, NY is a fourth generation family owned & operated farm market, nursery, greenhouse and ice cream stand serving their customers in the local Ellenville, Woodbourne, Wurtsboro and surrounding Town of Wawarsing, NY area. Barthel's features locally grown plants, produce, herbs and healthy goods from local farms.
No matter the reason or season, Barthel's Farm Market has all your seasonal & holiday plants, flowers, fresh produce and seasonal vegetables; from Christmas trees & Holiday wreaths, to Fall pumpkins, Fall flowers and corn stalks, Spring perrenials & annuals, Summer plants, shrubs, hanging baskets and flowers - it's all here, at Barthel's Farm Market in Ellenville.
Barthel's Farm Market has everything you need to get your outdoor flower garden looking great - from pottery and garden decorations, to gardening and planting related items to help make your job easier - and more efficient, with better results.
And for you garden & gardening beginners; Also, Barthel's Farm Market offers free garden and planting advice to help you through the tough times - just stop, in and they will listen!
For those larger and more bulkier purchases; such as bagged mulch, topsoil and other large items - the staff at Barthel's Farm Market will gladly assist in carrying & packing your car quickly and efficiently.
More importantly, Barthel's Farm Market proudly features fresh produce, homemade baked goods, as well as local honey, syrup, eggs, cheese, milk, butter, bread, meats and other items from local farms and vendors sure to enhance any recipe or kitchen table.
Stop in today and visit their beautiful farm market & garden center in Ellenvillee, NY.
Barthel's Creamery located next to Barthel's Farm Market in Ellenville, NY features over 40 flavors of premium hard ice cream and 10 flavors of all natural soft ice cream sure to bring a smile to your face - and tummy! Also, Barthel's Creamery has lunch specials every day, and boasts the best hot dogs in the Rondout Valley area with all your favorite condiments and toppings.
For those seeking a healthy diet and life-style, Barthel's Creamery offers a healthier spin on lunch with no fryers - just good natural food; with vegetarian and vegan choices, such as veggie burgers, homemade soups and fresh salads and wraps.
All food and produce used is either homegrown or sourced as locally as possible. Barthel's only uses fresh chicken raised with no growth hormones or antibiotics.