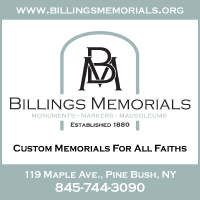 Billings Memorials in Pine Bush, NY is a monument company and memorial company that provides monument and memorial sales, monument cleaning, monument & memorial engraving services to their customers in Orange County, Ulster County, Sullivan County and the greater Hudson Valley, NY area. Call Billings Memorials today for all your monument design, setting, lettering and cleaning needs.
Billings Memorials located at 119 Maple Avenue in Pine Bush, NY. takes great pride in designing and crafting custom monuments and memorials for their customers in Gardiner, New Paltz, Montgomery, Wallkill, Pine Bush NY, Wurtsboro, Circleville, Bullville, Bloomingburg, Ellenville and surrounding Orange, Ulster and Sullivan County communities.
More importantly, at Billings Memorials they combine the use of time-honored techniques that have been passed down over the generations, with the latest cutting edge equipment and computer design technology - so that they are able to offer their customers the very best from past and present generations to assist in preserving a loved one's memory with a beautiful memorial.
For over 130 years, Billings Memorials in Pine Bush, NY has been helping families in the Hudson Valley create a personal and lasting memory of their loved ones, while providing personalized and compassionate customer service and professional quality craftsmanship in every monument or memorial they create.
​ BILLINGS MEMORIALS - ESTABLISHED 1880
MONUMENTS - MARKERS - MAUSOLEUMS - MONUMENT LETTERING MONUMENT CLEANING AND RESTORATION - MONUMENT SETTING PAYMENT PLANS AVAILABLE - CUSTOM MEMORIALS FOR ALL FAITHS
Like Us on facebook!
https://www.facebook.com/BillingsMemorials
Directions from New Paltz: Take route 208 south to Wallkill, at 3-way stop sign in Wallkill (where Post Office is located on left) take a left. Continue for approximately 2 miles until you come to a 4-way stop sign, at stop sign turn left onto Albany Post Road. When you reach a stop light, turn right onto route 52 west and continue on route 52 into Pine Bush. At second stop light in Pine Bush take a left onto route 302. Billings Memorials will be your second driveway on the right side.