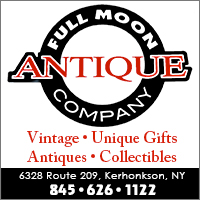 Full Moon Antique Company located at 6328 Route 209 in Kerhonkson, NY is an antique store featuring vintage furniture, jewelry, dolls, glassware, pictures & art, clothing, luggage, household items, unique gifts, antiques and collectibles sure to look great in any home. Full Moon Antique Company has that special something for that special somebody. Stop in today!
Full Moon Antique Company has a little bit of everything to give your house or room that special unique touch with new antique items in their store on a weekly basis - from fabulous art to perfect gift ideas, it's all here.
Full Moon Antique Company is centrally located on Route 209 in the Town of Rochester, and is the perfect antique store and vintage collectibles & unique gift shop serving the Stone Ridge, High Falls, Cottekill, Accord, Kerhonkson and Ellenville, NY area
Looking for that special last minute gift? Full Moon Antique's is sure to please with a wide variety of gift ideas from vintage 1800's to present, and with prices that are perfect for any budget or price range.
More importantly, at the Full Moon Antique Company in Kerhonkson, they feature a wide variety of artwork, gifts and vintage antique household items. From vintage furniture, lamps, jewelry, clothing, glassware, luggage & trunks, purses & handbags, classic kitchen related items, dolls and doll furniture and doll houses - it's all here on display under one roof.
Stop in and browse and shop today!
FULL MOON ANTIQUE COMPANY - ANTIQUES & VINTAGE COLLECTIBLES
Like us on Facebook!
https://www.facebook.com/pages/category/Vintage-Store/Full-Moon-Antique-Company-109289927250212/