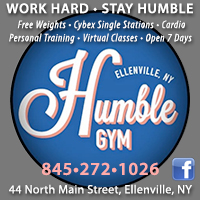 The Humble Gym located at 44 North Main Street in Ellenville, NY is a full service gym and fitness center with a strong commitment towards personalized service and individual attention for those seeking to achieve a healthier lifestyle. At the Humble Gym, their professional fitness experts are focused and committed in helping you achieve your individual fitness goals - and peace of mind!
Whether your goal is to build strength, increase flexibility, or lose a few unwanted pounds, it begins with the decision to change your lifestyle, and it should and can begin today - that's where the Humble Gym in Ellenville comes in!
Through customized fitness training and proper nutrition specific to your needs and lifestyle, you can achieve your individual fitness goals and improve your quality of life - and it all starts here, at the Humble Gym!
So, if your looking for an experienced, friendly, helpful and supportive gym and fitness center sensitive to your individual fitness goals, Stop in the Humble Gym today for a tour and personal fitness evaluation.
THE HUMBLE GYM - GYM AND FITNESS CENTER SERVING THE ELLENVILLE, WURTSBORO, NAPANOCH, WAWARSING, ACCORD, KERHONKSON AND STONE RIDGE, NY AREA - OPEN 7 DAYS
Please use Facebook to get notices about our classes and holiday hours.
Like us on Facebook!
https://www.facebook.com/pages/category/Sports---Recreation/Humble-Gym-274878233205737/
WORK HARD, STAY HUMBLE!