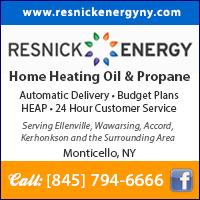 Resnick Energy located in Monticello, NY has been a leading home heating oil supplier and propane delivery company for over 20 years. Resnick Energy services the Ellenville, Town of Warwarsing, Kerhonkson, Accord, Circleville, Scotchtown, Bloomingburg, Wurtsboro, Town of Mamakating and surrounding Sullivan County, Northern Orange County and Ulster County, NY communities.
Resnick Energy offers fast delivery within 24-48 hours for their home heating oil and propane customers.
Resnick Energy is fully licensed and insured and offers competitive prices, superior customer service and the highest quality home heating oil, kerosene, and propane available. More importantly, Resnick Energy provides superior customer service to all of their customers.
Regardless of the property you wish to supply; commercial or domestic, Resnick Energy has an extensive selection of fuel products to fulfill your home and business requirements. Resnick Energy features superior home heating oil, kerosene, propane, on and off road diesel fuel, regular unleaded and super unleaded gasoline products.
Resnick Energy in Monticello, NY offers the lowest and most affordable prices for home heating oil, propane and kerosene in the Ellenville, Town of Wawarsing, Accord, Kerhonkson, Town of Rochester, Scotchtown, Circleville, Bloomingburg, the Town Wallkill, Wurtsboro and the Town of Mamakating, NY - and they consistently strive to bring their clients the highest quality customer service regardless of the circumstances.
As a professionally qualified home heating oil & propane delivery company, Resnick Energy prides themselves to respond in a timely and cost-effective manner for every customer.
RESNICK ENERGY - LOCAL HOME HEATING OIL & PROPANE DELIVERY AUTOMATIC DELIVERY - BUDGET PLANS - QUALITY CUSTOMER SERVICE - KEROSENE PRODUCTS - ON & OFF ROAD DIESEL- UNLEADED GAS AND SUPER UNLEADED GAS
Like us on Facebook!