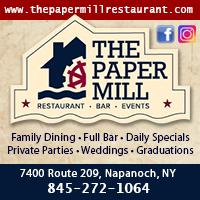 The Paper Mill located at 7400 Route 209 in Napanoch, NY is a restaurant, bar, entertainment and events center in Ulster County, NY featuring fine family dining, a full bar and the best live entertainment in the Hudson Valley. The Paper Mill is your premier local events center - providing the perfect venue for weddings, private parties, reunions, graduations and corporate functions with all facilities on site.
THE PAPER MILL IS NOW SERVING BREAKFAST 7 DAYS A WEEK 7:00AM TO 10:00AM!
Event Planning: Looking for a premier location to plan a wedding, graduation, class reunion, family reunion, surprise party or corporate event? Well, look no further! The Paper Mill Restaurant, Bar & Event Center conveniently located in the Town of Wawarsing (just north of Ellenville on route 209) in beautiful Ulster County, NY is the perfect venue to host your event.
More importantly, everything you need to host your event is all conveniently located in one location - a first class restaurant and bar serving the best food & libations in the area, with a 3000 sq.foot covered patio to rock & swing the night away.
The manager and chefs of The Paper Mill will meet with you personally to customize a menu that your guests will remember for years, all within a budget that meets your specific qualifications and parameters. Call today to schedule an appointment!
Entertainment: The Paper Mill Restaurant & Bar in Napanoch, NY proudly features some of the best entertainment in the Hudson Valley, NY area. Conveniently located north of NYC by the Woodstock Bethel site, the Paper Mill brings to the stage great live music, comedy shows, wine pairing & tasting events, line dancing, sporting event parties and other interesting entertainment events sure to please.
Check their web site or social media links for dates and details!
Like us on Facebook!
https://www.facebook.com/thepapermillnapanochny
Check us out on Instagram:
https://www.instagram.com/thepapermillnapanochny/?hl=en
THE PAPER MILL - RESTAURANT - BAR - EVENTS - ENTERTAINMENT