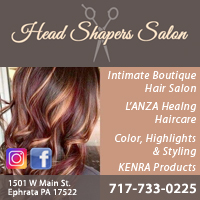 Looking for the best hair salon in the Ephrata PA area? Head Shapers Salon is a full service Hair and Nail Salon located at 1501 W. Main St. Ephrata PA 17522. Head Shapers Salon specializes in styling, cuts, color, highlights, wedding & special occasion up-do's, waxing & nail care services including manicures and pedicures.
Head Shapers Salon of Lancaster County PA is an Intimate Boutique Hair Salon that uses healthy hair care products including L'ANZA Healing Hair Care, KENRA and OPI Nail Products. L'ANZA targets the causes of hair damage, not just the symptoms.
Visit our Instagram page to view photos of our work!
https://www.instagram.com/headshapers.salon/
BOOK ONLINE!
https://www.headshaperssalon.com/book-online.php
The Goal of Head Shapers Salon is to provide you with the finest hair care available. The highly skilled creative team wants you to look and feel your absolute best, they offer a variety of services to keep your locks the way you love them. If you're trying something new and creative or want to maintain your current look, each of the Head Shapers Salons stylists will give you a look that matches your personality and style. With each color and cut service provided, a free consultation is offered to ensure that they know exactly what you are looking for.
In addition to modern cuts Head Shapers Salon offers full and partial highlights, all over color, color correction, retouch services, wedding and special occasion up-do's, waxing and nail care services. They take pride in being a neighborhood establishment with passion for serving you. You are welcomed not just as a customer, but as a neighbor and a friend. For a new look call Head Shapers Salon today and meet with one of their exceptional stylists!