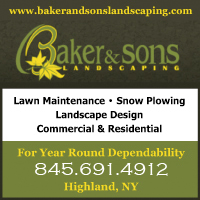 Baker and Sons Landscaping located in Highland, NY provides quality full service landscaping, landscaping contracting services and consistent landscaping maintenance and reliable snow removal services to their customers in the New Paltz, Highland, Gardiner, Clintondale, Plattekill, Ardonia, Modena, and surrounding local Ulster County communities.
Baker and Sons Landscaping has a consistent reputation of dependable, professional and expert customer service, and their vision is to provide the highest quality, customer-focused landscaping, landscape design, lawn care, landscape maintenance and snow removal services in the Hudson Valley.
Quality Guarantee: At Baker and Son Landscaping, they're not satisfied until you're completely happy with the service you've received.
More importantly, every aspect of your landscape will benefit from the utmost in quality care, and you can be rest assured that they will use only the finest landscape products and materials.
From simple tree and shrub pruning, to removal of fallen trees during a storm - no task is too big or too small for Baker and Sons Landscaping.
Year Round Dependability: Baker and Sons annual Landscaping programs will keep you covered through every season.
BAKER and SONS LANDSCAPING - For Year Round Dependability!
Like us on Facebook!