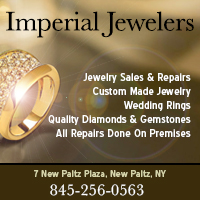 Imperial Jewelers located at 7 New Paltz Plaza in New Paltz, NY is a jewelry store that specializes in jewelry sales & repairs, custom made jewelry, custom wedding rings, quality diamonds and gemstones and a wide assortment of gold and silver earrings, bracelets and necklaces in all the latest styles. All repairs at Imperial Jewelers are done on premises and guaranteed.
Looking for an unique gift for a special occasion, maybe a wedding, bridal or baby gift? Imperial Jewelers always has on display a wide variety and selection of jewelry - from earrings, necklaces and bracelets, to pearls diamonds and gemstones - and a wonderful selection of gold and silver jewelry to enhance your look and presence.
Imperial Jewelers features a jewelry repair shop & gem laboratory right on the premises for your convenience, and watch repairs and jewelry estate appraisals are their specialty.
Family owned & operated, Imperial Jewelers also features custom machine engraving services, silver restoration, and quality diamonds & gemstones for that special someone - and they are always available for jewelry appraisals and jewelry repair consultation.
More importantly, Imperial Jewelers offers a wide variety and selection of quality and custom jewelry for any occasion - from engagement, anniversary, sweet 16, graduation, or that "getting out of the dog house" gift.
Imperial Jewelers in New Paltz specializes in wedding rings and custom wedding ring design. Call, or stop in today!