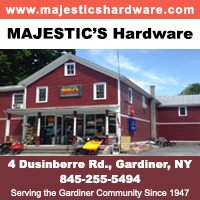 Majestic's Hardware located at 4 Dusinberre Road at the corner of 44/55 in Gardiner, NY is a family owned and operated hardware store serving Gardiner, Modena, Ardonia, Wallkill and the local surrounding area since 1947. Majestic's Hardware has everything you need for your all projects - paint & paint supplies, plumbing, electric, hand tools & power tools and lawn & garden supplies - it's all here!
For over 67 years, Majestic's Hardware in Gardiner has been providing quality customer service and repitable products to their customers - now doesn't that say it all!?
At Majestic's Hardware they provide all of your general hardware and hardware store needs - from plumbing tools, paint & paint supplies, power equipment, lawn mowers and other outdoor garden supplies, to that certain whatcha-ma-call-it; right down to the smallest nut, bolt or washer.
More importantly; and consistent, with a business that has been proudly serving their customers for almost 70 years!
Majestic's Hardwares' main focus and number one priority is providing quality products and personalized customer service to their customers - with the fastest repair turn around time, and best small engine repair mechanic in the area!
Majestic's Hardware proudly features Stihl and Toro products.
Like Us on facebook!
https://www.facebook.com/MajesticsHardware/info
Check us out on Instagram: