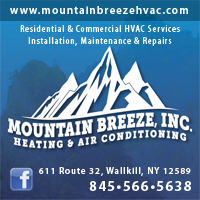 Mountain Breeze Heating & Air Conditioning located at 611 Route 32 in Wallkill, NY is a local full service heating, ventilating & air conditioning company that specializes in residential and light commercial HVAC heating & air conditioning services to their customers in Gardiner, New Paltz, Wallkill, Newburgh, Cornwall, Stone Ridge, High Falls and surrounding Hudson Valley Communities.
For over 20 years, Mountain Breeze HVAC, Inc. has been providing professional residential & commercial HVAC services to their customers in the Hudson Valley.
From general repairs to new construction, Mountain Breeze Heating & Air Conditioning specializes in complete professional HVAC services, including HVAC sales, maintenance and HVAC installations for any residential & light commercial job.
More importantly, at Mountain Breeze Heating & Air Conditioning in Wallkill, NY, no job is too big or small for their experienced team of skilled HVAC professionals - using the best components, systems & parts available in the industry today.
Energy Efficiency & Energy Savings - Mountain Breeze, Inc. also specializes in energy efficiency heating & air conditioning systems for new construction and modernizing older air conditioning & heating systems. From new energy efficient furnaces and heat pumps, to WIFI & home smart AC/heating thermostats, Mountain Breeze has got you covered!
Tempstar Smartcomfort Deluxe 18 Heat Pump: This product is designed for our best energy saving operation at a cost comparable to a two stage system. When installed as part of an Observer communicating system, the heat pump will optimize itself to run at the most efficient level - which can save you money!
Fantech Heat Recovery Ventilators (HRV's): HRV's are recommended for colder areas of the country that have longer heating seasons, and are designed to bring a continuous supply of fresh air into a home while exhausting an equal amount of contaminated air.
HRV's improve indoor air quality through better ventilation, and proper ventilation will always make a positive contribution to indoor air quality - aiding in the control of contaminantes, including moisture and mold.
Call Mountain Breeze Heating & Air conditioning today for a more comfortable, money saving & energy efficient home and business today!
Like us on Facebook!