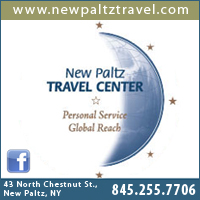 New Paltz Travel Center located at 43 N. Chestnut Street in New Paltz, NY is a full service travel agency and travel agent that provides deluxe and luxury travel packages, Europe cruises, Europe tours, river cruises, Caribbean cruises, adventure & cultural destinations as well as corporate travel management services to their customers in New Paltz, Gardiner, High Falls, Stone Ridge & Town of Rosendale, NY.
New Paltz Travel is a travel agency in New Paltz providing complete travel related services to their customers in New Paltz, Gardiner, Stone Ridge, High Falls, Tillson, Rifton, Rosendale, Cottekill, Town of Rosendale, Town of Marbletown and surrounding Ulster County, NY communities.
New Paltz Travel was established in1992 and has faithfully provided quality travel services at fair and competitive prices to their travel customers in New Paltz, Gardiner and surrounding Ulster County communities for many years - many of their travel clients & customers have been with them from day one.
Over the years, New Paltz Travel Center has developed relationships with suppliers that provide the same high quality customer service philosophy as New Paltz Travel Center. As a result, the staff at New Paltz Travel is able to offer price sensitive, as well as problem free travel arrangements to their travel customers.
More importantly, New Paltz Travel Center in New Paltz works for you!
They understand that every travel customer and every trip, tour, cruise and vacation is unique to that specific customer - so they work hard to customize a travel package that works for you, your budget and your travel needs. That's why travelers have been coming to New Paltz Travel for 25 years!
TRAVEL AGENT IN NEW PALTZ, NY - CRUISES - DELUXE & LUXURY TRAVEL PACKAGES - EUROPEAN VACATIONS & TOURS - ALL INCLUSIVE TRAVEL PACKAGES - RIVER CRUISES - ADVENTURE TRIPS - RESORT PACKAGES ROMANTIC HONEYMOONS TRIPS - CARIBBEAN CRUISES & PACKAGES
Check Us Out on Instagram!