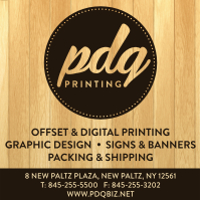 PDQ Printing located at 8 New Paltz Plaza in New Paltz, NY features professional offset and digital printing services, photo copies, graphic design, signs & banners and packing & shipping services to their customers in New Paltz, Gardiner, Highland, Pine Bush and the greater southern Ulster County area. PDQ Printing is your "go to" printer for all your printing & copying needs.
PDQ specializes in signs and banners for their customers in Highland and New Paltz, and proudly features a fully-functional sign and large format printing shop, with a 60" printer, laminator, and vinyl cutting plotter capable of producing all sorts of large format prints and signs.
AT PDQ PRINTING IN NEW PALTZ THEY SPECIALIZE IN SIGNS & BANNERS!
For 34 years PDQ printing in New Paltz has steadily grown into a full-service print shop serving businesses and individuals alike, and capable of meeting all printing, copying, signage, book making, graphic design and promotional needs.
PDQ Printing can handle all of your printing and copying needs and projects - such as custom business cards, postcards, envelopes, letterheads, rack cards, and direct mailings. They also carry an extensive line of papers, from basic white to extra thick card stock, glossy coated papers, specialty linen, and any color you can think of.
Design Dept. Email: design@pdqprints.com
The print shop at PDQ Printing in New Paltz is equipped with a whole array of printers for every specific need - from basic black and white printers, to full color digital copiers and a high performance digital production printer for fast, high quality prints.
PDQ now proudly features the Mimaki JFX200 flatbed UV printer capable of printing high resolution up to 48" x 96". This state of the art flatbed printer can print on virtually any surface - including wood!
The Future of Printing Technology - UV flatbed printers use an ultraviolet LED light to cure ink droplets instantly as they hit the surface of the substrate.
With flatbed printing PDQ can now print on almost any substrate including Coroplast, PVC, Metal, Foamboard, Cardboard, Magnets, Acrylic and Wood.
UV Printing is great for yard signs, POP displays, art gallery pieces, event signage and interior decor art. It can also be used for specialized projects such as ceiling and floor tiles, glass, wood, and fabrics.
Check out this amazing new printer at: https://pdqprints.com/flatbed
PDQ Printing also features full saturation mailing services to get your information directly to your customers. PDQ will design, print and send out postcards of almost any size, custom envelopes, bulk-mailing, flyers and newsletters - so you don't have to worry about a thing when it comes to reaching your potential customers.
Signs & Banners - In addition to printing, PDQ Printing in New Paltz also has a fully-functional sign and large format printing shop, with a 60" printer, laminator, and vinyl cutting plotter capable of producing all sorts of large format prints and signs.
Sign Dept. Email: signs@pdqprints.com
PDQ Printing also does corrugated plastic signs for political campaigns, yard sales and event promotions; as well as large format banners, paper prints, rigid panel signs, storefront window lettering, vehicle lettering and wraps, parking signs, and custom routed shapes and dimensional signs.
So, if you are looking to spread the word about your business and the great things you do, or looking to let people know about a fun or special event coming up, look no further - PDQ Printing in New Paltz is your one stop printing, copying, graphic design, sign & banner and promotional printing center in New Paltz.
Packing & Shipping - PDQ Printing features a full service packing and shipping center, with packing and shipping supplies to insure that your packages arrive safe and on time.
Check Us Out on Instagram!