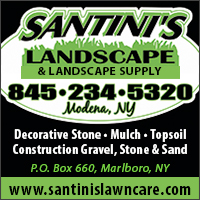 Santini's Landscape Supply located Marlboro, NY is a landscape supply center that features landscape & landscaping materials - from construction stone, decorative stone, decorative & natural mulch and other landscape materials sure to get your outdoor landscaping projects looking their best. Santini's Landcape provides delivery of all landscape materials.
Santin's Landscape Supply is a full service landscape suppy center that has everything you need to make your home and business landscaping design & features looking their best. Santini's Landscape Supply has everything from decorative stone & mulch, to landscape stone dust, landscape item stone and landscaping stone fill materials all designed to get the job done right the first time - and at a fair price!
More importantly, Santini's Landscape Supply features bulk delivery services on all landscape materials sold at their landcape supply center in Modena, NY.
Whether you are a landscaping contractor or do-it-yourself landscaping home owner who likes to get their hands dirty, call or stop by Santini's Landscape Supply in Modena for all your landscaping projects - big or small.