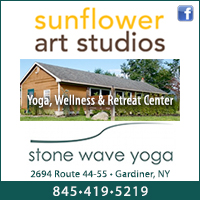 Stonewave Yoga & Sunflower Art Studios located at 2694 Route 44-55 in Gardiner, NY is a community based art studio and yoga & wellness center that features art classes for children and adults, community yoga - and other creative experiences, projects and classes all designed to bring an awareness to the arts on a local community level.
Sunflower Art Studios & Stonewave Yoga promotes community enrichment with local art, yoga and wellness for all!
Stonewave Yoga - At Stone Wave Yoga in Gardiner, NY they are focused on creating an environment that "zeros in" on the mind-body-spirit connection.
Yoga strengthens your body and helps manage stress, and improve self awareness and self-image. Yoga at Stone Wave is community based and focuses on bringing accessibility and opportunity to residents of Gardiner, New Paltz, Wallkill and the Mid-Hudson Valley.
The philosophy of Stone Wave Yoga is inspired by nature, and they strongly believe that - like stone, people seek strength and stability; and yet - like a breaking wave, we must remain agile and flexible - allowing for deeper growth and openness to beautiful change.
STONEWAVE YOGA - YOGA, WELLNESS & RETREAT CENTER
Sunflower Art Studios - Established in 2016, Sunflower Art Studios is a community creative space committed to bringing visibility to the arts in Gardiner, New Paltz and surrounding Mid-Hudson Valley communities.
At Sunflower Art Studios in Gardiner, they seek to create art experiences for the community, and collaborate with a broad scope of local artisans in an effort to enrich the community through an awareness of the arts.
More importantly, Sunflower Art Studios provides art classes for children and adults while offering other creative experiences and classes throughout the year; from community yoga, gallery nights and the Sunflower Festival
SUNFLOWER ART STUDIOS ~ BRINGING AWARENESS TO THE ARTS
Like Us on facebook:
https://www.facebook.com/sunflowerartstudios
Sunflower Art Studios Website: