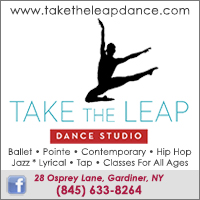 Take The Leap Dance Studio located at 28 Osprey Lane in Gardiner, NY provides dance lessons, dance instruction, dance classes, dance performing arts and dance fitness classes for dancers of all ages in the Gardiner, New Paltz, Wallkill and surrounding area. Take The Leap Dance Studio promotes a positive and supportive atmosphere, where performance is the primary focus of their dancers and not competition.
At Take The Leap Dance Studio they proudly focus on inspiring all their dancers to achieve their very best in a comfortable & friendly dance atmosphere, and strive to shape the young dancer's body and mind in a fun and positive learning environment; both individually and working together as a group.
Take The Leap Dance Studio offers quality dance instruction in all styles of dance - with classes in ballet, pointe, jazz, tap, lyrical, contemporary & hip-hop for all ages and skill levels.
All the classes at Take The Leap Dance Studio are limited in size and taught by adult instructors with professional dance credits and a continuing curriculum in dance instruction and education.
More importantly at Take The Leap Dance Studio in Gardiner, community is important - so they continually endeavor to get their dancers out in the local community performing as much as they can. There is no doubt their dancers have fun while working really hard!
Call, or stop into their newly renovated dance studio today!
Check Us Out on Instagram!
https://www.instagram.com/taketheleapdance/
Like Us on facebook: