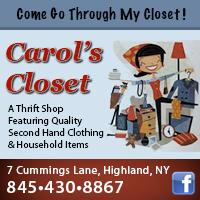 Carol's Closet located at 7 Cummings Lane in Highland, NY is a second hand gift shop and thrift store featuring women's clothing, men's clothing, leather jackets, vintage household collectibles & gifts, antiques, home decor, books, games, vintage housewares, children's clothing & toys and a little bit of everything else. It's all here on display in a cozy & clean little shop - stop in today!
Carol's Closet features gently used home gifts, antiques, primitives, clothing, collectibles and unique housewares, vintage items and accessories for their customers in Highland, Esopus, Ulster Park, West Park, Milton, Marlboro, Clintondale and the surrounding Town of Lloyd, NY area.
Looking for that special last minute gift? Carol's Closet is sure to please with a wide variety of gift ideas from vintage to present - and with prices that are perfect for any budget or price range.
Stop in today and browse around and check out the large selection of classic & vintage second hand gifts, clothing, household items and collectibles - there's something here for everyone!
Like us on Facebook!