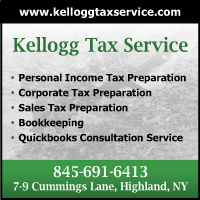 Kellogg Tax Service located at 7-9 Cummings Lane in Highland, NY provides professional personal & business income tax services, tax preparation services and bookkeeping and tax consultation services to their customers in the Highland, Town of Lloyd, New Paltz and surrounding local communities - and proudly specializes in personal service.
At Kellogg Tax Service in Highland they personally handle all personal income tax returns, from itemized deductions to small businesses and rental properties, and they can file corporate tax returns to suit your unique corporate tax situation.
Also, If you are interested in a more "hands-on" accountant to assist you with your monthly bookkeeping services, at Kellogg Tax Service they offer an all-inclusive bookkeeping service that provides you with QuickBooks entry bookkeeping, sales tax, income/business tax, and corresponding audits.
Please consider Kellogg Tax Service in Highland, NY for all your local bookkeeping and income tax needs - call or stop in today, appointments are preferred.
Like Us on facebook!