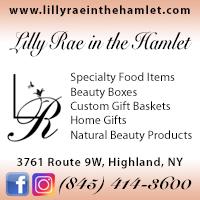 Lilly Rae In The Hamlet is a gift shop and boutique gift store located at 3761 Route 9W in Highland, NY featuring a little bit of everything to make your life-style easy and a lot more comfortable. In this clean and cozy store you will find gift baskets, beauty boxes, skin care products & lotions, candles, natural make up, baby gifts, jewelry, olive oil, local honey, coffee & tea, jams, salsas & sauces, spices and other gift items.
Lilly Rae in the Hamlet has been voted Number #1 gift shop in the Hudson Valley for two consectutive years in a row! Congratulations!
At Lilly Rae In The Hamlet gift shop you can find a wide variety and assortment of locally made gifts, beauty products and household items sure to bring a smile to any room or home. There is so much to brouse in this beautifully laid out and organizes gift store - that's why people travel from towns throughout the Hudson Valley to visit this gift shop and boutique in Highland, NY.
At Lilly Rae In The Hamlet, their mission is clear and simple - To support small local businesses and to be a pillar and contributing business member of the community. More importantly, Lilly Rae strives to be that small local shop that everyone loves and visits on a regular basis - not because it's convenient, but because it feels like family!
Lilly Rae In The Hamlet located in Highland, NY is a gift shop and boutique gift store convenient for shoppers travelling from New Paltz, gardiner, Rosendale, Esopus, West Park, Poughkeepsie, Hyde Park, Marlboro, Newburgh and surrounding Town of Lloyd communities in the beautiful Hudson Valley, NY area.
Stop in today! You're gonna love this little gift shop~
Like us on Facebook! https://www.facebook.com/ilovelillyrae/
Check us out on Instagram!