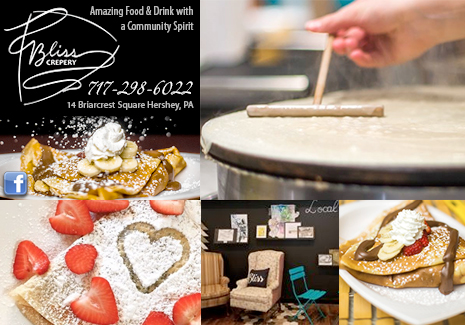 The all new Bliss Crepery is a funky, fun, delicious crepery in Hershey, PA, that's combining amazing food & drinks with a whole lotta community spirit! Located in Briarcrest Square across the street from the Hershey Medical Center and Hershey Lodge, you will find Bliss Crepery at 14 Briarcrest Square, Hershey PA 17033.
Looking for relaxed, family dining, a spot to grab coffee or smoothies with friends? Look no further! Bliss has cozy, indoor & outdoor patio seating.
Bliss Crepery is a family run business that loves when family expands to include community members and travelers. Family favorites are included on the menu at Bliss Crepery. It has everything from savory & sweet crepes to fresh smoothies, hot chocolate, local Lancaster coffee & more! This new gem has a little something for all tastes!!
Visit the menu below.