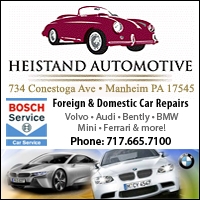 Looking for the best foreign & domestic auto repair shop to service your Audi, Bentley, BMW, Mini. Volvo, Mercedes Benz or Porsche in the Manheim, PA area just minutes from Hershey, Lebanon and all points in Lancaster County? Call or visit Heistand Automotive conveniently located at 734 Conestoga Avenue in Manheim, PA.
Heistand Automotive specializes in high end vehicle repairs (car or truck) and maintenance repairs, state inspections and pre-purchased vehicle inspections.
All roads lead to Heistand Automotive so if you're looking for auto or truck repair "Service You Can Trust" and live in Lititz, Elizabethtown, Mount Joy, Ephrata, Denver, Hew Holland, Leola, Leacock, Barnsville, Columbia, Mountville or Quarryville you are only minutes away.
MAINTENANCE
Your car is a big investment, and you want to keep it in peak condition as long as possible. Scheduled maintenance can make a big difference. Every manufacturer recommends periodic servicing of its vehicles to ensure that they run properly and to maximize their life. Following scheduled maintenance can also save the owner money in fuel efficiency and avoiding bigger repairs. Heistand Automotive can help make sure you keep up with the schedule.
PRE-PURCHASE VEHICLE INSPECTION
Heistand Automotive can provide peace of mind when you purchase a pre-owned car by performing a comprehensive vehicle inspection. The certified, professional staff will perform an inspection of key equipment and systems, from the engine and transmission to the tires, belts, hoses and many other areas.
STATE INSPECTIONS
Heistand Automotive is a certified emissions and safety inspection station, fully qualified to issue inspection stickers. Schedule your state inspection and emissions test by calling 717-665-7100. Be sure to bring your current vehicle registration card and proof of car insurance.
FOREIGN CAR SERVICES
Heistand Automotive has earned a solid reputation as a foreign car service and maintenance leader in Lancaster County and Central PA. Heistand Automotive has decades of experience working with virtually all makes and models of foreign autos, as well as domestic cars. They continue to invest in the technology, equipment and expertise necessary to service foreign vehicles.
Advanced Equipment - The facility is fully equipped with the latest diagnostic and computer instruments required to service today's complex foreign cars.
Highly Skilled Staff – The top-notch technicians have the experience and training to work on foreign models, efficiently and effectively.
Certified Training – The technicians are regularly sent to training and certification courses offered by the leading foreign car makers.
Doing business with Heistand Automotive is like having an auto repair shop in the family. There when you need them, and the owners personally ensure that you get prompt, expert service. You can always count on the friendly, professional staff to proactively recommend the best service options for you, not the most expensive ones. You are charged a reasonable price, they go out of their way to make sure the job is done right the first time, and their word is as good as any guarantee. It's just what you would expect from a family-owned and run business who truly values its customers.