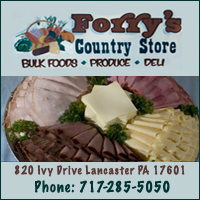 Looking for a local grocery store & meat market Lancaster PA? Forry's County Store is the place to go. Conveniently located at 820 Ivy Drive, Lancaster 17601 (behind West Hempfield Fire & Rescue) only a short distance from West Hempfield, East Petersburg, and Manheim Township.
Forry's Country Store offers a large variety of grocery store items including fresh deli lunch meat, fresh produce, salads, subs & sandwiches, baked goods including cookies, pies and angel food cakes, fresh ground round & chicken. They also, now serve Flavor Burst Combo Cones of Twisted ice cream.
Looking for a healthy affordable quick lunch? Forry's now offers fresh subs and salads made to order!!
For The Best Fresh Turkeys, Party Trays & Gift Baskets in Lancaster County at Thanksgiving or Christmas, Forry's County Store is the place to go. Stop in or call to place your order.
Forry's Country Store offers 7 kinds of subs and 4 kinds of pretzel roll sandwiches made fresh every morning. Salads are packed twice a week. Fresh produce is sold year around and is bought to our grocery store locale when in season. The deli prices are some of the best to be found and the product is sliced while you wait with the exception of the sale items which are sliced fresh every morning. Baked goods are baked by various local bakeries, including pies, cookies, various sweet breads, angel food cakes, etc. Various fruit and pumpkin baked goods are available in season. Another service we offer at Forry's Country Store offers is all variety of trays for your parties or family gatherings.
At Forry's Country Store they offer sliced meat & cheese, chunked meat & cheese, veggie with or without dip, fresh fruit, pickle & olive, condiment and any kind of combinations that you like on trays. We also make fruit & gift baskets around Thanksgiving & Christmas.
Forry's Country Store is family-owned and operated, with 5 of the Forry children working there full-time as well as quite a few other employees. The store has the "small-town", grocery store atmosphere. Locals enjoy shopping there because it feels "local" and not like a big chain store.
The goal of Forry's Country Store is to provide an excellent product and to meet the needs of the customer. A friendly, neighborhood store with the best prices around. Depts: Deli, Produce, Dairy, Salads, Baked Goods, Frozen, Grocery Bulk Foods, and Subs Items Unique to Forry's: ready to eat Subs and Pretzel Sandwich's, Sauerkraut in December and January, and Party Trays.