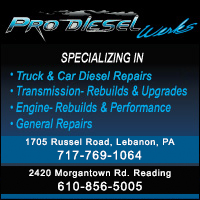 Pro Diesel Werks is a auto and truck repair shop with locations in Lebanon and Reading, PA specializing in pickups, medium-duty trucks and diesel cars. Whether you are looking to go all-out performance or general repairs, they will get the job done right the first time. If you are looking for truck maintenance, a minor repair truck repair, a major engine repair or a transmission rebuild and upgrade, they will do everything right in their shop.
Pro Diesel Werks is a complete medium duty truck repair and diesel auto repair shop for all makes and all models. They are your premier shop for all your truck and auto diesel repair needs. At Pro Diesel Werks they offer a wide range of services for make, any model or any style truck or diesel car.
Pro Diesel Werks has many certifications in several different mechanical areas. You can trust that your truck repair will be done right. Their certifications allow them to meet all your needs in a one stop shop saving you from down time.​
Pro Diesel Werks is a certified Truck and Auto Diesel State Inspection Center. Bring your pickup, medium duty truck or diesel automobile for your PA State Inspections and Emissions Testing.
Factory Trained Engine Technicians
ASE Certified Technicians
Pro Diesel Werks uses only quality parts to reduce cost per mile and down time. They fix the small problems before they become major issues. At Pro Diesel Werks they schedule service times, so when you bring in a truck or diesel car, they can get right to work on it.
Fleet Services
Pro Diesel Werks is a truck & auto repair shop in Lebanon PA serving the diesel truck repair and commercial repair needs of fleets in Lebanon, Harrisburg and Lancaster, PA. They offer a variety of high quality truck repair & auto repair services to fleets as one of the leading full-service truck repair & auto repair facilities in Central, PA. Their technicians accurately diagnose issues and make prompt repairs so you can get your vehicles back out on the road fast.
The ASE-certified team at Pro Diesel Werks will service your fleet of cars or trucks, ensuring that they remain in the best possible condition.
Fleet Services Include:
Light and Medium Duty Trucks
Limousines
Local government vehicles
Municipal fleets
Police vehicles
Public work vehicles
Pro Diesel Werks provide regular and preventative maintenance for your fleet of cars or light to medium duty trucks and offers full-service, high-quality diesel service at much lower prices than dealerships.
Some of the vehicles serviced are:
Ford
GMC
International
Isuzu
Kenworth
Peterbilt
Some of the engines serviced:
Caterpillar
Cummins
Detroit
International
Dodge Cummins
Ford Powerstroke
GMC/Chevy Duramax
VW TDI
Services Provided:
Air conditioning service
Battery and charging system diagnosis and repair
Brakes
Charging systems
Check engine light
Clutches
Cooling system repair and maintenance
Differential
Drive train repairs & overhauls
Electrical problems
Electronic diagnostics & repairs
Emission Inspections
Emission problems
Engine diagnostics
Engine performance
Engine repair/replacement
Exhaust problems
Factory recommended service/maintenance
Fuel system repair and maintenance
Heating System repair & service
Tires
30/60/90 K mileage maintenance services
Oil change
State Inspections
Steering & suspension
Tires
Transmission rebuilds repairs, upgrades & service
Preventative Maintenance Programs
It makes no difference if you own a single work vehicle or a fleet of several trucks; you cannot afford to have broken down vehicles. If the units are not running, you are not making any money with them. At Pro Diesel, they can help.
Routine maintenance
Annual inspections
Free Service & Trip Check with Every Repair Includes:
Check Engine Oil
Inspect Drain Plug Gasket
Check Oil Filter(s)
Check Coolant Filter
Check Fuel Filter(s)
Check Engine Air Filter
Check Brake Fluid Level & Condition
Check Power Steering Fluid Level
Check Window Washer Fluid Level
Check Coolant Level & Condition
Visual Inspection of Radiator Hoses
Visual Inspection of Radiator
Visual Inspection of Belts
Check Battery Terminals
Check Battery Condition
Check Exhaust System
Check Transmission Fluid Level & Condition
Check Driver Fluid Level
Check Brake Condition
Check for Axle Seal Leaks
Check Hub Fluid Levels
Check Tire Pressure
Check Tire Tread Depth & Condition
Check Engine Oil
Check For Filters & Drain Plug Leaks
Test Run
Like Us On Facebook
https://www.facebook.com/pages/Pro-Diesel-Werks/733226356717280