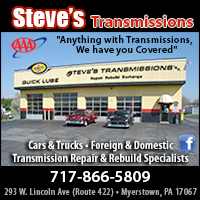 Looking for Transmissions, Transmission Repairs or Transmission Rebuilding or the best Transmission Repair Shop in the Myerstown, Lebanon and surrounding areas? Steve's Transmissions, Inc. is conveniently located at 293. W. Lincoln Avenue (Rt. 422) in Myerstown only minutes from Annville, Cleona, Jonestown, Lebanon, Bethel, Frystown, Robesonia, Schaefferstown and Womelsdorf, PA.
Get Full-Scale Transmission Repair and Rebuilding Services for your auto or truck at Steve's Transmissions, Inc. For Anything in Transmissions Steve's Transmissions, Inc. has your covered. They are your One-Stop Shop for All Your Drive-Line and Differential Needs!
With over 40+ years' experience you can be sure the transmission repair or rebuild on your auto or truck is done right the first time. You will get quality transmission services on your foreign or domestic vehicles.
At Steve's Transmissions, Inc. their team of experienced professionals is dedicated to providing you with in-house transmission repair and rebuild on most foreign and domestic cars. Count on them to provide you with top-grade transmission services for trucks as well. Trust them to offer remanufactured transmissions with a 3-year or 100,000-mile warranty.
Steve's Transmissions, Inc. can provide you with specialty transmissions, transmission repairs and transmission rebuilds for classic car and street rods.
If you're looking for Top-Quality Transmission Services at Affordable Prices schedule an appointment with Steve's Transmissions, Inc. in Myerstown, PA.
"Drive Train Specialists"