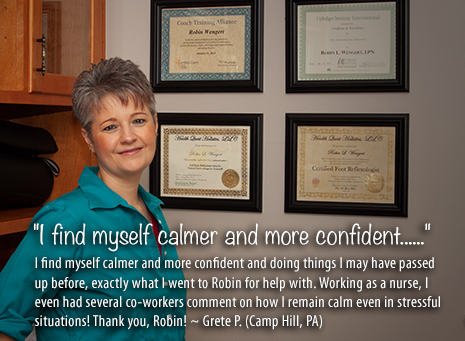 Searching for holistic, natural or alternative treatments for chronic pain, stress relief, anxiety, weight loss, auto-immune disorders or to quit smoking in Lebanon County, PA? Synergistic Approach, LLC in Lebanon County, PA uses a wide variety of Holistic therapies including Reflexology, CranioSacral Therapy, Hypnosis, Subtle Energy and Raindrop Therapy to assist you in reaching a higher, more complete level of health and wellness.
Synergist Approach, LLC is conveniently located at 536 E Penn Ave, Cleona, PA 17042 only minutes from Lebanon, Annville, Palmyra, , Jonestown and surrounding areas.
Practitioner
Robin Wengert, Owner/Manager of Synergistic Approach, LLC, is an experienced Licensed Practical Nurse and Holistic Health Practitioner trained in the areas of Reflexology, Upledger CranioSacral Therapy, Subtle Energy Work, and Certified in Hypnosis through the National Guild of Hypnotists.
Robin uses "non-traditional" natural, holistic therapies to correct the imbalancing the body may be experiencing. Her goal is to work with you to find the best approach for assisting your mind, body and spirit to move toward a state of balance and wholeness.
At Synergist Approach, LLC the following Natural, Alternative Therapies are utilized for pain management, stress relief, anxiety, weight loss, to quit smoking and more…
Reflexology
Reflexology is a therapeutic method of relieving pain by stimulating predefined pressure points on the feet, hands or body. This controlled pressure may assist to alleviates the source of the discomfort. In the absence of any particular malady or abnormality, reflexology may be as effective for promoting good health and for preventing illness as it may be for relieving symptoms of stress, injury, and illness.
Reflexologists work from maps of predefined pressure points that are located on the feet, hands and body. These reflex pressure points connect directly through the nervous system and send stimuli to the various bodily organs and glands. By means of this touching therapy, any part of the body that is the source of pain, illness, or potential debility can be strengthened through the application of pressure at the respective foot, hand or body location. The main goal of reflexology is to urge the body to return to a state of balance.
CranioSacral Therapy
CranioSacral Therapy (CST) is a holistic healing approach that uses very light touch to balance the CranioSacral system in the body, which includes the soft tissues and fluid that protect the brain and spinal cord. CST releases tension and stress associated with the central nervous system thereby supporting, facilitating and enhancing the body's nature capacity for self-correction and self-healing.
What Conditions Can CST Help?
​Migraines and Headaches
Chronic Neck and Back Pain
Stress and Tension- Related Disorders
Chronic Fatigue
Fibromyalgia
TMJ Syndrome
Scoliosis
Central Nervous System Disorders
Learning Disabilities
ADD/ADHD
Post-Traumatic Stress Disorder
Orthopedic Problems
Supporting the process & recovery from cancer treatment
Subtle Energy
Subtle Energy work is the gentle art of clearing cellular memory through the human energy field promoting health, balance and relaxation. Energy therapy is based on the concept of connection between the physical, emotional, mental and spiritual realms of our lives found in many holistic healing methods.
Hypnosis
​Hypnosis is a state or condition in which the subconscious mind becomes highly receptive and responsive to suggestions. When our minds are focused and concentrated we are able to use them more powerfully to create that which we desire. Working with a hypnotist is a co-creative relationship in which the hypnotist and client work toward the client's desired outcome. Hypnosis can be applied to many aspects of life to facilitate change and personal growth & development.
Hypnosis can be used as an independent modality in addition to improving the success of other treatments for many conditions.
Weight Loss
Smoking Sessation
Relaxation/Stress Reduction
Overcoming Phobias, fears, and anxiety
Sleep disorders
Depression
Post-trauma anxiety
Grief and loss
Pain Control
Pre-surgery hypnosis
Individual & *Small Group Programs available for but not limited to:
Weight Loss
Smoking Cessation
Stress / Anxiety Reduction
Raindrop Technique
An aroma therapy technique that is an application of essential oils to the spine and feet. This technique is geared towards balancing physical and emotional well-being. The essential oils can help reduce muscle tension and toxins leaving the back less tight and relaxed. Raindrop Therapy can also help with stress reduction and energy balancing.
AmpCoil or PEMF Technology
PEMF stands for Pulsed Electromagnetic Field, which are nature's beneficial EMF energy fields (below 10,000 Hz) used to improve circulation, cell metabolism, ATP production and more.
Electromagnetic energy controls your body's chemistry and is able to penetrate all the way through the body, creating a cascade of beneficial effects. Disruption of this energy in cells causes impaired cell metabolism. If your cells are not healthy, your body is not healthy.
The AmpCoil is a non-invasive PEMF sound technology that brings the body back in tune, vibrating in its original, pure state faster than you might expect. PEMF re-energizes damaged cells by restoring them to their normal, healthy state, which is in harmony with nature, as nature intended them to be.
PEMF can also reduce pain and improve the quality of your life by allowing your body to function as it was designed to do.
PEMF is used extensively with athletes for enhanced recovery and performance, and to treat sports-related injuries. However, it also has great applications with
a) chronic illnesses, especially pain syndromes including fibromyalgia, arthritis, headaches/migraines, chronic back pain and
b) autoimmune disorders, including Lyme disease and its many co-infections. It can be used as a whole body treatment or on localized areas where pain or injury exists.