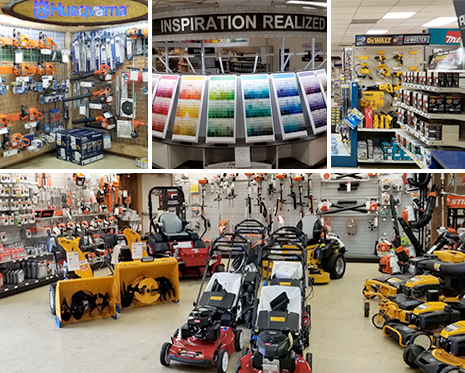 Umbergers of Fontana is a hardware & paint store serving Lebanon PA, Palmyra PA, Annville, Cleona PA and the surrounding areas.
A True Value Company
For Animal & Bird Feed, Auto Supplies, Farm Equipment, Heating & Cooling Items, Housewares, Lawn & Garden Equipment & Supplies, Outdoor Power Equipment, Paint, Pet Food, Plumbing Supplies, Repair Parts, Tools, Hardware, Rental Service, Equipment Repair Service or Used Farm & Agricultural Equipment Umbergers of Fontana has it all.
Conveniently located on Rt. 322 in Fontana/Lebanon only minutes from Hershey, Palmyra, Annville and Cleona.
Why go to the big box store and spend hours looking for the one thing you need to finish a project? Or waste your valuable time trying to find someone who can help you?
Here at Umbergers of Fontana, we have experienced, professional staff that can answer all your questions and help you find exactly what you need. We can have you in and out in less time than what it takes just driving and parking at some other stores! Plus ... our prices are great!
Our strength is the vast amount of items we carry. From the smallest screw to large earth-moving equipment! We carry items specifically geared to our neighborhood. Animal feeds, garden supplies, tools, landscaping equipment, pet supplies, paint, electical and plumbing supplies ... the list goes on and on!
Start your paint with us. At Umbergers of Fontana we offer brochures of color inspiration, paint samples and expert advice. Once you choose a color, we'll mix it perfectly. We offer computer color matching too!
The next time you have an inside (or outside) project ... come visit Umbergers. We're sure you won't be disappointed!
Departments
Animal & Bird Feed
Umbergers has been a Purina dealer since 1932!
We have the products (and research) to provide your animals the best nutrition possible. You can trust us with animals being shown or ridden, or the ones that make great pets.
We have feed for: Horses, Chickens, Goats, Sheep, Rabbits, Turkeys, Gamebirds, Llamas and Pot bellied pigs!
Other products include: Waterers, Dewormers, Insecticides, Shampoos, Fly sprays, Treats.
We feel it is important to have a wide variety of bird seed mixtures available. High quality mixes with no fillers as well as more economical blends. We try to keep our suet cakes and sunflower seeds very competitively priced.
We carry: Sunflower seed, Nyjer seed, Suet cakes, a wide variety of mixes and lots of feeders!
Automotive
Every so often, our vehicles need tune-ups and small repairs. Why take them to the garage when there are many repairs you can take care of yourself! Stop in and our friendly associates will help you select the right solution for your vehicle.
Batteries
Oils
Filters
Cleaners
Fuses
Towing accessories
Battery chargers
Antifreeze
Additives
Lubricants
Epoxy
Ethanol treatment
Electrical
We are wired into what you need to keep the lights on, the computers running and your house electronics all in order. The "do-it-yourself" homeowner will love our selection of items!
Generators
Extension Cords
Outlets
Receptacles
Boxes & Plates
Lamp Hardware
Heat Tape
Sump Pumps
Terminals
Connectors
Farm Equipment
Farm equipment has been a part of Umbergers product offering for more than 50 years. We represent the following lines:
Gehl Skid Loaders & Gehl Track Loaders
CE Attachments Skid Loader Attachments
Kuhn Hay & Material Handling Equipment
Brillion Tillage & Residue Management
Wic Silage Carts & Bedding Choppers
Weaverline Silage Carts & Bedding Choppers
Diller Hay Wagons & Running Gears
Ritchie Livestock Waterers
Yanmar Compact Tractors
Heating & Cooling
When it's too cold or too hot, you want to stay comfortable. We have items to help you warm up, or cool down.
Air filters
Stove pipe
Electric heaters
Kerosene heaters
Propane heaters
Lamp oil
Lighters
Kerosene wicks
Stove cement
Wicks
Air & Oil Filters
Housewares
We have everything you need to help keep the home clean and spotless and make you the envy of your neighbors!
Canning Supplies
Cleaning Supplies
Brooms
Mops
Dust Pans
Trash Cans and Bags
Small Utensils
Lawn & Garden
Lawn & garden is a very important area for Umbergers. We have everything from lawn seed and fertilizer to products to keep your garden healthy and the tools to get those jobs done.
Lawn seed & Fertilizer
Lime
Organic fertilizer
Insect killers
Weed killers
Shovels, Rakes & Forks
Sprayers
Hoses
Wheel barrows
Stink bug traps
Hose repair
Grasshopper zero turn mowers
Little Wonder Tillers & Leaf blowers
Generac Generators
Outdoor Power Equipment
We carry major brands of power equipment. We have financing available to purchase that equipment. We stock a full line of repair parts as well as service everything we sell as well as many brands we don't sell.
Lawn tractors
Compact tractors
Walk behind lawn mowers
Chain saws
Trimmers
Snow blowers
Tillers
Trimmers
Generators
Pressure washers
Log splitters
Leaf blowers
Paint
One of the easiest things you can do to brighten up your home is to pick a great paint color and go wild! We have sample color combinations available to help you decide and we have the experts who can help you pick the right finish, brand and painting supplies! We also offer computer color matching
We also have supplies for finishing and staining wood if you just finished building that perfect project this past weekend.
Paint - exterior & interior
Primer
Spray paint
Brushes & Rollers
Sandpaper
Scrapers
Caulk
Thinner & Cleaners
Hydraulic cement
Stains
Sealers
At Umbergers of Fontana we stock Brands You Can Trust including:
Easy Care Paint
Coronado Paint manufactured by Benjamin Moore
Miniwax Stains
Zar Wood Stain
Pet Food
We care about the well-being of your pet. We only sell quality foods that offer good nutrition and help your pet reach their potential.
Dog food
Cat food
Treats
Bones
Biscuits
Shampoos
Dishes
Crates
Cleaners
Litter
Litter pans
Dewormers
Flea & Tick control
Plumbing
Oh no! The faucet is dripping or there is a sudden leak in a pipe that's about to fill your basement! It's a weekend and there's no plumber around! Stop in quick and pick up the supplies you need to help stop those pesty leaks or gushing fountains!
PVC Pipe & fittings
CPVC pipe & fittings
Galvanized pipe & fittings
Brass fittings
Plastic fittings
Drain cleaner
Sump pumps
Utility pumps
Filters
Drain repair parts
Repair Parts
We stock authentic repair parts for all the brands we sell. We also have generic parts for many other brands. Finding parts for customers is one of the best things we do.
Brands of the parts we stock include these: Cub Cadet, Gehl, Kuhn, Hustler, Toro, Grasshopper, Ferris, Yanmar, Troybilt, Husqvarna, BCS, Briggs & Stratton, Kohlet, Tecumseh, Honda, Kawasaki and Wezverli
Tools & Hardware
We have the tools you need for doing those projects around the house.
Wrenches
Sockets
Ratcheting wrenches
Measuring tapes
Files
Hammers
Sledge hammers
Screw drivers
Drill bits
Drill accessories
Jig saw blades
Sawsall blades
Clamps
Fasteners, Screws, Nails, Mail Boxes
Used Equipment
Lawn & Garden & Agricultural
Used Lawn & Garden Tractors
Used Zero Turn Mowers
Used Walk Behind Mowers & Misc. Equipment
Used Skid Loads & Ag Equipment
Used Snowblowers