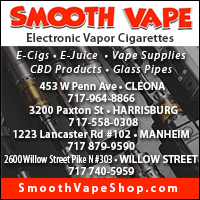 Searching for the best local Vape Shops, Electronic Cigarettes, E Cigs, E Juice or Vaping Supplies in Lebanon, Harrisburg, Manheim or Willow Street, PA area? Look no further Smooth Vape has 4 locations conveniently located at 453 West Penn Avenue (Rt. 422), Cleona PA 17042, 3200 Paxton Street, Harrisburg PA 17111, 1223 Lancaster Rd (#102), Manheim PA and 2600 Willow Street Pike N Unit 303, Willow Street PA 17584.
Whether you're looking for a starter kit, Pod Kit, Disposable Vape or a vape pen, look no further than Smooth Vape to choose from our quality vape kits, pens, or mods. Let them help make your new vaping experience more enjoyable.
­You will find all of your favorite E juice flavors at Smooth Vape they make their own house juice and take great pride in the flavors they create.
Smooth Vape is a locally owned business conveniently located in Cleona, PA, Manheim, PA, Harrisburg, PA and Willow Street, PA. No other store in the area brings you the latest device and vaporizer mods from leading brands like GeekVape, Freemax, Smok, Purge, Vaporesso, Horizon, Uwell, Hellvape and much more at a competitive price. They offer a 14-day manufacturer's replacement WARRANTY on their hardware. They take pride in the level of customer service we provide.
Smooth Vape provides a relaxing atmosphere for anyone looking to unwind for a while. Ask about their 14-day manufacturer's replacement WARRANTY on hardware that we offer. They price match their competitors advertised and in-stock pricing.
You can stop in at one of the Smooth Vape locations or order on line from their website: https://smoothvapeshop.com/