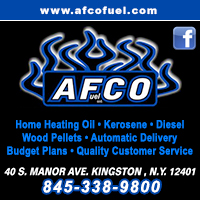 AFCO Fuel located at 40 South Manor Avenue in Kingston, NY is a family owned & operated home heating oil company delivering home heating oil to their customers in the Kingston, Saugerties, Lake Katrine and Port Ewen, NY area. AFCO Fuel offers convenient & easy budget plans, automatic delivery, senior citizen discounts and good ol' fashion quality customer service.
The primary goal of AFCO Fuel is to become the most trustworthy and customer friendly heating oil company in the Kingston, NY area, and they strive to be the lowest priced company with the most helpful, friendly and professional personnel in the home heating oil business.
More importantly, AFCO Fuel is an independent, family-owned and operated home heating oil company that has been faithfully serving their heating oil customers for over 20 years in the Kingston, Rifton, Saugerties, Lake Katrine, Town of Ulster, Port Ewen, the Town of Esopus, High Falls, Stone Ridge, Cottekill, Town of Marbletown and the surrounding northern Ulster County, NY area.
AFCO Fuel in Kingston supplies #2 fuel oil, kerosene, diesel (on and off road), wood pellets and firewood to homes and businesses, and they firmly believe in treating each customer with courtesy and compassion and offering the lowest price possible - while exceeding your customer service expectations! Simply put, at AFCO Fuel they treat you like family!
At AFCO Fuel they offer 24/7 emergency services, and a variety of payment options are available, including budget and pre-pay. For your added convenience they accept cash, checks, money orders, most major credit cards and HEAP.
HOME HEATING OIL DELIVERY - HEATING OIL BUDGET PLANS - LOWEST HEATING OIL PRICES - HEATING OIL SENIOR DISCOUNTS - KEROSENE - DIESEL - WOOD PELLETS - FIREWOOD - QUALITY CUSTOMER SERVICE
Like us on Facebook! https://www.facebook.com/afco.fuel