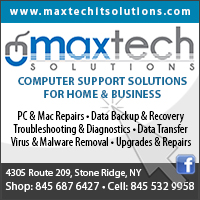 Maxtech Solutions located at 4305 Route 209 in Stone Ridge, NY is a full service computer repair shop and technical support firm that offers expert technical services in PC & Mac repairs, laptop, desktop & server hardware repair, virus and malware removal, data back-up, upgrades & diagnostics combined with exceptional customer service and competitive prices.
At Maxtech Solutions they cater to both home and business computer users, and provide professional computer repair services to their customers in the Stone Ridge, High Falls, Rosendale, New Paltz, Olive Bridge, Hurley and the greater Ulster County, NY area.
Although computers and related technology should be a tool to make life easier and more interesting, they can often be extremely frustrating - wherein the user feels intiminated and lost. It doesn't have to be this way!
Let the folks at Maxtech Soutions Computer Repair in Stone Ridge help make your computer(s) work for you - not against you. From turning on your computer to software tutorials, at Maxtech Solutions they can show you how to get the most out of your technology!
Whether you're looking for a cheap laptop to surf the web, a high-end gaming system, or something in-between, Maxtech Solutions can find or recommend the best PC or Mac computer to meet your needs and budget.