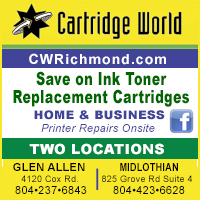 Save on Ink & Toner Cartridges & Printer Packages
100% GUARANTEED!!
FREE Pickup and Delivery (for qualifying customers)
NEW LOCATION SEPTEMBER 1st.

Cartridge World Richmond in North Chesterfield VA replaces ink & toner cartridges in the Richmond CityWest End, Bon Air North Chesterfield VA areas. Serving and delivering throuhout Chetser and Chesterfield County.
Simple printer repairs are done on-premises or referred out. We resell printers with a warranty and an expert service inspection.
PRINTERS NEW & USED sold & repaired & installed.
We replace Ink and Toner Cartridges for all major brands like HP, Canon, Brother, Okidata, Dell & More!
We repair and service all major brand Printers with the highest quality standards you would expect, right here in the store.
Cartridge World-Richmond has 11 years of experience and a great staff that goes above and beyond all expectations to help their customers.
Our Cartridges are 100% performance guaranteed!
Check out our Website:
http://CWRICHMOND.COM
Like & follow us on FaceBook https://www.facebook.com/pages/Cartridge-World-Richmond/132746243409177