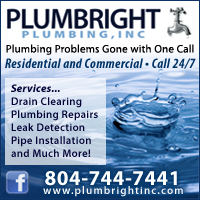 Plumbright Plumbing, Inc. provides plumbing repairs, hot water heaters & sewer line repairs to the Midlothian, Chester, Bon Air, North Chesterfield, Richmond, The Fan, Center City, Richmond West End, Short Pump, Glen Allen, Mechanicsville, Ashland & Powhatan VA, Goochland Manakin-Sabot VA area.
Central VA's #1 Residential Plumber
We provide plumbing services for new construction, working throughout Richmond and other local areas with some of the state's and country's top-rated building contractors
Plumbright Offers a $49 Service Call.
At home, at work, in the morning, at midnight, your plumbing problems are all over with ONE phone call. Plumbright Plumbing, based in Midlothian and serving Central Virginia, has the team, tools, technology, and training to provide complete plumbing services for home and business owners. Plumbright plumbers will find those pesky leaks, unclog your drains, replace bad pipes, hook up appliances, inspect your sewer and keep it in the flow. Plumbright offers gas line services and even bathroom remodeling for your living space or workplace. Plumbright has been providing plumbing, sewer, and hot water heater service in Midlothian, Bon Air, Chesterfield, Powhatan, Mosley, Richmond, Short Pump, Glen Allen, Tuckahoe District, Mechanicsville, and Ashland, VA for over 20 years, helping both home and business owners keep their plumbing, gas, and sewer systems working properly. Plumbright service rates are highly competitive and Plumbright always offers FREE estimates. Plumbright Plumbing, Inc. never oversells a product or process and always presents customers with all available options. Plumbright Plumbing, Inc. is open for appointments six days a week and also offers emergency services 24/7. Plumbright is a proud member of the Better Business Bureau and holds an A+ rating. Plumbright Plumbing supports their community and participates in various events and fundraisers. At Plumbright Plumbing, they keep their community in the flow, on schedule, and on a budget!
Plumbing, sewer system repairs and hot water heater installations & repairs Tankless Water Heaters are available in the Midlothian, Chester, South Chesterfield, Bon Air, North Chesterfield, Hanover County, Ashland, Mechanicsville, Powhatan, and Mosley, VA areas. Plumbright professionals are also available in Richmond City West End, Glen Allen, Short Pump, Mechanicsville, Ashland, and Powhatan, Goochland, Manakin-Sabot, VA for any plumbing & sewer line issues.
Emergency Service: 804-614-0784