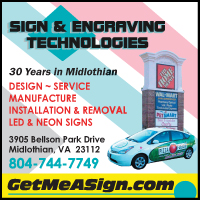 DESIGN-MANUFACTURE-SERVICE-INSTALLATION & REMOVAL
For signs, vehicle wraps, neon & magnetic signs, banners & truck lettering in Richmond Metro, Midlothian, Chester, North Chesterfield, Bon Air VA call Sign & Engraving Technologies in Midlothian VA.
Trading as SignTek. Where a simple Neon OPEN Light
brings attention to your store.
ALLCOVID-19 PROTOCOLS ARE IN PLACE
SERVING Midlothian, Richmond Metro, Bon Air, N. Chesterfield County VIRGINIA Store signage specializing in Neon & LED design
With over 30 years experience our TOP QUALITY TECHNICIANS
Have the knowledge and understanding on how to make your business look its BEST!!
We are the Sign Contractor for WAWA Throughout Virginia!!