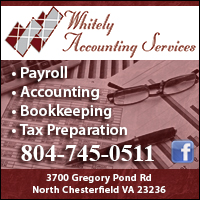 Proudly Serving Our Community Since 1984
In the Midlothian Virginia and North Chesterfield Area, small businesses from Bon Air to Mosely rely on Cherryl Whitely for payroll & accounting services.
Whitely Accounting Services offers a wide range of federal and Virginia tax services. As tax consultants for business and personal accountants. We will assist you in preparing your current or prior year's tax returns. An Enrolled Agent (EA) reviews every tax return. For Payroll preparation on your schedule call Cherryl Whitely. We can represent you in any matter before the Internal Revenue Service or the Virginia Department of Taxation.
Why Come To Us Instead Of A National Chain?
We are large enough to handle diverse needs, small enough to care.
Our tax office is open year-round.
We provide personal attention to your tax situation.
If you are a new customer and provide us with the previous year's tax return and information, we will review that return for free.