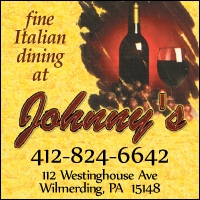 Welcome Back to "Johnny's Fine Italian Restaurant" in Wilmerding PA! ~ #1 choice for Italian Dining and Entertainment! ~ Johnny's Italian Restaurant and Lounge located at 112 Westinghouse Ave. Wilmerding PA 15148 (Monroeville) NOW OPEN!! Authentic Italian Cuisine with their Pasta, Veal, Chicken, Seafood and Steaks Dinners. Join us Tuesday-Thursday for our Happy Hour Specials! We also feature live music every Saturday evening and are available for private parties! If you are looking for a great Italian restaurant in the Monroeville, Murrysville, Plum Boro, Harrison City & Pittsburgh area, Johnny's Italian Restaurant should be your choice! We are located east of Pittsburgh near Monroeville Pa. Customers travel from Monroeville, Murrysville, Export, Delmont, Plum Boro, Harrison City, Trafford, Level Green, Greensburg, North Huntingdon, Irwin, Penn Hills, Oakmont, Verona, many areas of Pittsburgh, West Virginia and Ohio!
Johnny's Italian Restaurant was established in 1993 and is owned and operated by Ron and Kim Zummo offering Italian Cuisine that you will NEVER forget...EXCEPTIONAL SERVICE and a FANTASTIC ATMOSPHERE....all at EXTREMELY REASONABLE PRICES! We have accomplished our goal of providing Pittsburgher's with an Italian restaurant that is regarded as one of the BEST!
COOKING IS OUR PASSION!
That is why we have been in this business most of our adult lives! Ron Zummo, restaurant owner, has a passion for his business and also runs the kitchen. Ron prepares all the recipes, new creations and handed down recipes from old country relatives. Our food is RICH with FLAVOR…and our portions are such that we always have many "take home" containers available!

~ENJOY!!