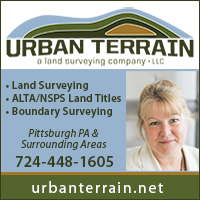 Amy Hopkins of Urban Terrain LLC, A Land Surveying Company, is a professional commercial land surveying company. If you are in need of an ALTA survey, boundary survey, base mapping, utility location surveys, elevation certificates, a commercial property survey, residential property survey, or a combination of services, we've got you covered. At Urban Terrain LLC, A Land Surveying Company, we are committed to providing accurate land surveying and mapping products that meet our client's diverse needs. We are dedicated to integrity, accuracy, and client satisfaction.
Amy Hopkins is a professional commercial land surveyor with dual licensing in both Pennsylvania and New York. She has extensive experience working with large commercial developers as well as industrial and residential clients. Amy coordinates projects with land managers, regulatory specialists, geologists and drilling engineers to ensure accurate and timely completion of projects. Mindfulness of the best interests of surface and mineral rights owners is a priority for Amy. She is highly skilled in ALTA/NSPS land title surveying and has provided expert witness testimony for boundary disputes.
In need of a commercial land surveyor? Amy Hopkins of Urban Terrain LLC, A Land Surveying Company is a Veteran Owned Business and is proud to serve the Pittsburgh, Murrysville, Delmont, Export, Monroeville, Apollo, Plum Boro, Greensburg, Allegheny County, Westmoreland County, Armstrong County and surrounding areas. Amy is partnered with Gen3 Surveying for residential land surveying.
Urban Terrain LLC, A Land Surveying Company, is certified thru the National Council as a WBE - Women's Business Enterprise. This certification qualifies Urban Terrain for certain State & Federal contracts as well as local authorities such as the URA, PWSA, and ALCOSAN.
SURVEYS AVAILABLE:
ALTA/NSPS SURVEY
BOUNDARY SURVEY
TOPOGRAPHIC SURVEY
SUBDIVISION PLAN SURVEY
BASE MAPPING/GROUND SURVEY
UTILITY LOCATION SURVEY
ELEVATION CERTIFICATE
EASEMENTS & RIGHTS OF WAY
LEGAL DESCRIPTIONS
COMMERCIAL LAND SURVEY
RESIDENTIAL LAND SURVEY...We are proud to partner with Gen3 Surveying for your residential land surveying projects.