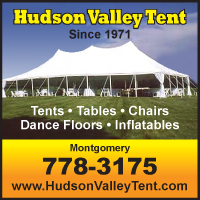 Hudson Valley Tent Rentals located in Montgomery, NY is a tent rental company that provides tent rentals, party tent rentals, bouncehouse and inflatibles rentals and tent rental services to their customers in Montgomery, Newburgh, New Paltz, Gardiner, Wallkill, Middletown, Washingtonville and surrounding Hudson Valley communities. Hudson Valley Tents also features tables, chairs and dance floors.
Hudson Valley Tent Rentals located in Montgomery, NY is a full service party tent rental, bouncehouse and inflatibles rentals center - serving Orange County, Ulster County, Dutchess County, Sullivan County and the greater Hudson Valley, NY area for tent rentals and party rental supplies.
Since 1971 Hudson Valley Tent located in Montgomery, NY has proudly been serving the needs of it's customers in Montgomery, New Paltz, Newburgh surrounding areas for tent rentals, bounce house rentals and party rentals in the Hudson Valley - as well as the tri-state area.
Hudson Valley Tents will customize a tent that is perfect for your event or situation - personal or professional. 40 years says something!
At Hudson Valley Tent Rentals, they treat every event as if it were their own because they are family owned and operated. At Hudson Valley Tent they have many tent sizes to accommodate your needs - from 15 x 15 to 60 x 200. WHY GO ANYWHERE ELSE? They have it ALL under one roof - or under one tent!
Weather can be sudden and unpredictable - Hudson Valley Tent Rentals will professionally provide your temporary outdoor shelter (fancy name for tent) to cool you from the sun, or protect you from that often unanticipated rain or light precipitation that can blow through unexpectedly. Need linens, lighting, or a dance floor? We got that!
Hudson Valley Tent Rentals guarantees to make your event a classy one - for any business or personal occasion. Choose from 9 linen colors to compliment your party theme with many sizes and patterns available upon request. Custom orders should be placed 10 days in advance for sanity purposes
Plan on partying into the late-night? Hudson Valley Tent has lights to suite any atmosphere, perimeter, or occasion, and they feature perimeter lighting which can be hung around your tent, adding an elegance and glow to your evening or night party. Extension cords are available upon request at a small additional cost, for DJ or stereo systems.
LIke Us on facebook!
https://www.facebook.com/pages/Hudson-Valley-Tent-Co-Inc/221369634557093?rf=168568816493617
HUDSON VALLEY TENT RENTALS - WE GOT YOU COVERED!