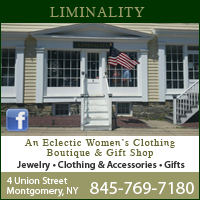 Liminality located at 4 Union Street in Montgomery, NY is a women's clothing boutique, gift shop & boutique that features women's clothing & accessories, jewelry, hats & scarves, handbags, candles, leather goods, Fairtrade clothing & handmade gifts, home related gifts, upcycled/recycled handbags and backpacks from military tarps and tents and a unique selection of eclectic gifts for any occasion.
There are gift shops, and then there is Liminality...
Liminality gift shop & boutique has something for everyone with a clean, cozy and comfortable vibe in the heart of beautiful downtown Montgomery. No matter the season or occasion, Liminality is sure to please with women's jewelry, clothing & accessories, men's gifts, children's gifts and an eclectic selection of upcycled and handmade gifts sure to bring a smile as soon as you walk in.
Fairtrade International Products - Liminality is a proud participant and supporter of Fairtrade International. Fairtrade is an alternative approach to conventional trade based on a partnership between producers and traders, businesses and consumers. The international Fairtrade system - made up of Fairtrade International and its member organizations - represents the world's largest and most recognized fair trade system.
The primary objective of Fairtrade and their members is to connect disadvantaged producers and consumers, promote fairer trading conditions and empower producers to combat poverty, strengthen their position and take more control over their lives.
More importantly, shoppers can buy products in line with their values and principles, and they can choose from an ever growing range of great products. By buying into Fairtrade consumers support producers who are struggling to improve their lives, thus making the world better for everyone.
Since its launch in 2002 the FAIRTRADE Mark has become the most widely, recognised social and development label in the world. Fairtrade offers companies a credible way to ensure that their trade has a positive impact for the people at the end of the chain...
... thus making the world better for everyone!