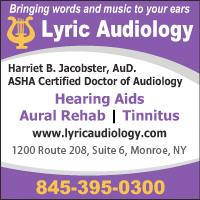 Lyric Audiology located at 1200 Route 208 in Monroe, NY is a local hearing health care center that treats tinnitus, gradual hearing loss and hearing issues to their patients through comprehensive hearing testing, tinnitus evaluation and assessment & aural rehabilitation services to their local patients in Monroe, Central Valley, Chester, New Windsor, Hamptonburgh, Washingtonville, and Cornwall area.
Lyric Audiology has moved to their new location at 1200 Route 208, Suite 6 in Monroe, NY. Stop by and visit their new Hearing & Tinnitus Center in Monroe, today!
At Lyric Audiology & Tinnitus Center their number one goal is to provide complete hearing healthcare & aural rehab services to their customers in the Monroe, Harriman, Chester, Sugar Loaf, Goshen, Cornwall, Cornwall on Hudson, Washingtonville, Montgomery, Walden, Maybrook, Campbell Hall, Rock Tavern, Hamptonburgh, Highland Mills, Central Valley, Circleville, Scotchtown and the greater Orange County NY area.
At Lyric Audiology & Tinnitus Center in Monroe, NY they listen to you and ask the right questions to fully understand your total hearing needs, and then they combine the information you provide with the results of your hearing and tinnitus evaluations, to create a customized hearing and tinnitus solution to meet your personal hearing needs.
Lyric Audiology & Tinnitus Center offers a wide selection of the best hearing aids, treatment options and assistive technology available, so their recommendations are unbiased and are personally suited for your unique situation.
Lyric Audiology...Bringing Words and Music to Your Ears!
Mission Statement:
Lyric Audiology will work honestly and diligently to provide the highest caliber of services to our patients and their families. More importantly, they aim to treat the whole person, and not just the hearing loss - thus improving quality of life for both the patient and their loved ones.
LYRIC AUDIOLOGY & TINNITUS CENTER - THEY TAKE CARE OF YOU, NOT JUST YOUR EARS!
Like us on Facebook!