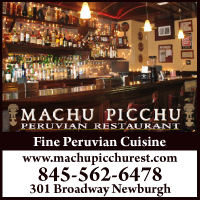 Machu Picchu Peruvian Restaurant located at 301 Broadway in the City of Newburgh, NY is a Peruvian restaurant that offers fine Peruvian cuisine to their local customers in Newburgh, New Windsor, Cornwall, Vails Gate, Montgomery, Walden, Marlboro, Plattekill, NY - and fast Peruvian take out dinners and professional catering services to their customers in the greater Newburgh & New Windsor, NY area.
Looking for a wonderfully unique culinary experience? Then Machu Picchu Peruvian Restaurant in downtown Newburgh, NY, should be on top of your culinary "must try" list.
Family owned and operated since 1990, Machu Picchu and it's menu reflect the exquisite stlyes of Spanish-South American tastes fused with traditional Peruvian recipes.
At Machu Picchu Restaurant the portions are generous and prepared with only the freshest of ingredients, and served by a courteous and knowledgable wait staff.
The decor at Machu Picchu is tasteful & warm, with imported mohagany and cultured stone crafted by Peruvian artists. South American and Peruvian artwork add a genuine and rustic atmosphere, combined with the aromas eminating from the active kitchen.
All is complete with melodic Peruvian music gently playing in the background combining for the full Peruvian dinning experience.
Machu Picchu also features a full bar that is stocked with top shelf liquors, as well as domestic and imported Peruvian beers. Wines topical to the region and heritage are also available.
Machu Picchu Peruvian Restaurant in Newburgh, NY consistently delivers the true Peruvian dinning experience! Call, or stop in today - reservations are preferred.
FINE PERUVIAN CUISINE & CATERING SERVICES SERVING NEWBURGH, NEW WINDSOR, MARLBORO, VAILS GATE AND THE CORNWALL, NY AREA
Family owned and operated since 1990, Machu Picchu Peruvian Restaurant first opened it's doors to invite the community to experience the culinary richness of Peru.
Since then, we have been specializing in authentic Peruvian flavors and ingredients, aiming to capture the complexity of this great cuisine through a diverse menu.
Whether it's our Ceviches or Pollo a la Brasa (Peruvian Rotisserie Chicken), Machu Picchu Peruvian Restaurant in Newburgh, NY is considered the "Best Peruvian Food in the Hudson Valley."
Like Us on facebook!
https://www.facebook.com/MachuPicchuPeruvianRestaurant
Check Us Out on Instagram: