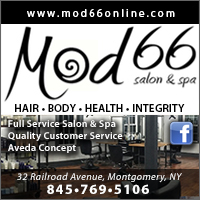 Mod66 Salon & Spa located at 32 Railroad Avenue in Montgomery, NY is a full service Aveda concept Salon & Spa specializing in womens hair cutting & styling, skin care and massage, facials & full day spa services. Mod66 Salon & Spa provides a holistic retreat for mind, spirit, and body wellness for their customers in Montgomery, Walden, Maybrook, Bullville, Pine Bush and the surrounding local area.
Mod66 Salon & Spa was founded by Diane Ryan and Katey Jackson, who teamed up to bring their combined 32 years of experience in the Salon and Spa industry to the Montgomery and Pine Bush, NY area.
With a long term goal of expanding into a destination spa with the industry trend of creating a holistic retreat for mind and body wellness, as well as being an Aveda concept, they plan to distinguish themselves as a Day Spa that caters to their clients.
More importantly, Mod66 will provide you with the highest quality salon & spa services - from the moment you walk into their newly renovated salon, to the time you leave...
MOD66 SALON & SPA * MIND * BODY * HEALTH * SOUL * INTEGRITY
Like Us on facebook! https://www.facebook.com/mod66salonandspa/