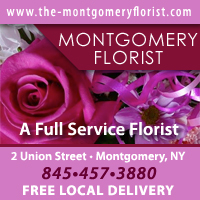 Montgomery Florist located at 2 Union Street in Montgomery, NY is a full service florist that provides fast & reliable floral delivery services, the best fresh cut flowers, custom floral arrangemants, wedding flowers, flowers for funerals and flowers for any event or occasion to their customers in Montgomery, Walden, Maybrook, Hamptonburgh, Campbell Hall, Rock Tavern and the surrounding Orange County area.
Montgomery Florist is a full service florist & floral delivery business located in the village of Montgomery, NY.
Whatever the occasion, holiday or event, flowers are consistently a great choice - and always brighten up any room where they are displayed.
Montgomery Florist proudly features all of your favorite flowers for all seasons, and with over 30 years of experience in the floral business - you can count on a beautiful presentation and arrangement for pick up, or speedy local delivery.
More importantly, Montgomery Florist has been providing professional custom floral arrangements and fresh cut flowers to families and business's in the Town of Montgomery and surrounding Orange County communities for over 20 years.
No matter the event or occasion, Steve and Ellyn at Montgomery Florist will sit down with you and make sure your flowers are fresh and beautiful for that special day - and within a budget that works for you.
Twenty years says a lot for any business, especially one as personal and intimate as flowers. If you have attended a wedding, private party, family reunion, graduation, corporate function, birth or funeral in the Montgomery, NY area; and were impressed by the floral arrangements, chances are the flowers were provided and arranged by Steve and Ellyn at Montgomery Florist.
Confused on how flowers should take a visual role in your wedding or special event? Steve and Ellyn will personally meet and consult with you, and answer all of your questions no matter how large or small the occasion - and always within a budget that works for you.
Montgomery Florist - Creating Smiles One Flower At A Time!
Like us on Facebook!